Stringed Orchestra Brings Video Game Classics To Life – Game Music (Album) Review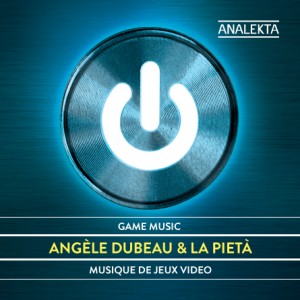 I was exposed to a wide variety of music as a child, very much in part due to my father's appreciation for the art as both an aficionado and performer. Many late nights were spent next to my heater vent as I listened to him play the drums in the basement with his 70s and 80s rock cover bands, with my mother wondering why I was so very tired in the morning having 'gone to bed' no later than 8PM the previous night. This appreciation for music extended beyond the Rock n' Roll to Classical music. At the age of 8 he gave me his clarinet, and I joined the school band to learn about the art of brass and woodwind instruments. As I grew up, the 90s Grunge movement stole my attention away from the clarinet, and gave me the desire to learn to play guitar, but I always had an appreciation for the classical, symphonic music that follows me to this day.
As video games have become more graphically powerful and complex, so too has the music that has accompanied it. Even in the days of the electronic MIDI (Musical Instrument Digital Interface) that accompanied the 8-bit and 16-bit classics such as Chrono Trigger, Final Fantasy, or Super Mario Brothers, those notable themes have grown and evolved as music moved from digital to the live studio orchestra to bring together two of my most sacred loves: music and video games.
Nowadays, road shows such as Video Games Live, PLAY!, and the Legend of Zelda: Symphony of the Goddesses tour around the world to deliver enchanting evenings of familiar video game themes to the masses, while exposing show goers to the wonderful world of the symphony. So when I heard about a new upcoming album simply entitled Game Music composed by famed Canadian violin virtuoso Angèle Dubeau and the all-female string orchestra La Pietà, I absolutely had to sit down with the album for a review – and it most certainly does not disappoint!
Game Music is an album composed entirely of stringed instruments including violins, piano (yes, it's stringed), with just a touch of percussion for flavor, which, unlike its big-show counterparts delivers a more personal experience that really brings out the emotion of the themes that the played songs portray. The first song you'll hear in Game Music is the theme to Tom Clancy's Splinter Cell: Conviction. From the moment that the violins rise up and the piano plays a foreboding arpeggio in the first movement, you know that you're in for an experience unlike anything you've heard in previous video game compilations. As the violins begin their crescendo, you can almost feel the sense of loss that the game's protagonist, Sam Fischer, experiences in the game after the violent murder of his daughter Sarah. The tempo changes suddenly as the violinists' bows dance excitedly across the strings into a violent frenzy of rage conveying Fischer's quest for retribution. This first two minutes and fifty seconds is, however, only a taste of things to come in this album.
Angèle Dubeau's eclectic selection of musical themes and medleys play on the heart-strings of gamers of just about every walk of life. Classics such as Final Fantasy and Chrono Trigger/Chrono Cross are obvious inclusions to the album, while the casual gamer is represented by a superbly performed rendition of the theme to Angry Birds, and hardcore gamers will be happy to hear the familiar songs from Assassin's Creed: Revelations, Halo 3, and Heavy Rain. Heavy Rain in particular was a title that I thought most peculiar as it's a piece that's not typically represented in the video game concert space, but upon hearing the selection, I have to say that I understand why Dubeau picked it; Dubeau's selections don't just aim for the popular titles to play on the pockets of enthusiasts, but rather titles that convey that strong emotional connection to listener.
Dubeau and La Pietà take these already established classics and weave their own magic into the music in a way that speaks to the listener; what's even more amazing is that they do so without mangling the original work with their own 'creative vision' of heavy metal guitars or some other bit of noise to make it something 'different''. The best example of this would be in the almost ten-minute long Final Fantasy medley that incorporates just about every piece of classic work that Nobuo Uematsu composed for the series including the well-known main theme and staff roll pieces, the Chocobo Theme ("Fiddle de Chocobo"), among many others that will simply bring you to tears one moment, and make you laugh out loud the next. When I envision a night of symphony celebrating video game music, it's Dubeau's and La Pietà's conception of what video game music is.
Game Music is an absolute must have for any video game music enthusiast who's looking for a collection that stays very true to the source material, with just enough creative input to bring each piece to its maximum potential – whether they have a taste for the symphony or not. For the 53 minutes and 22 seconds that this album runs its course, you'll be taken on a journey to the very center of your video gaming soul. And when the last note drops, there will be only one thought on your mind… "Where's that damned play button again?"
Game Music releases this October 23rd in Canada, October 30th in the United States, and worldwide on December 1st for $18.98 (US) for a physical copy and $9.99 for the digital version.  If you'd like to have a listen for yourself, you can head over to Amazon.com for some savory samples!