Gamer Living To Take On 24-Hours Of Video Gaming For Charity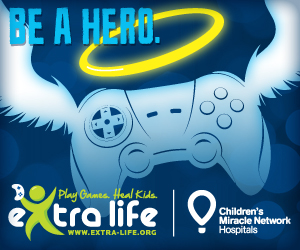 Extra Life 2012 kicks off at 8am this Saturday, 10/20.  A simple enough premise: Play video games for 24 hours straight to raise money for a Children's Miracle Network hospital.  A worthy cause if there ever was one.  It will mark my third year participating in this 24 hour torture session for eyeballs everywhere.  It will be a first, though, doing so as part of a team.  Unlike past years, where the ill-temper, delirium, and nonsensical profanity-laced tirades brought about by doing most anything for 24 straight hours have been solitary affairs, thankfully hidden from the public, this year they'll be available for all to see.  What's even more fun?  I'm bringing friends too.  GamerLiving.net's own Will Anderson and Blair Hicks will be joining my Ocular Death March for Kids.
At this point, you may be wondering "where's the part where he solicits money from us?"
Right here.
With our stated goal of $5,000 currently far out on the horizon I turn to you.  Yes, the person reading this, you.  Don't freak out, I don't expect you to fill the gap yourself.  We set a lofty goal.  It's for helping sick kids make the best of a horrible situation, you're damned right we set a lofty goal.  It's a kickstarter with only a few days left, with the goal of knowing YOU pitched in to turn a kids life around.  I don't care if you throw $1 at this, $10, $50, $100.  I know how many people look at this site every day.  There's a reason the Zergling Rush was a legitimate tactic.  At $1 per person that $5k number disappears, quickly, and we'll know our efforts this Saturday won't be in vain.
So turn a hand helping Gamer Living.net support one of the best causes there has even been, the kids.
Here's our live stream.  If it doesn't work here, then you can head over to our main stream page here.
***EDITOR'S NOTE*** We'll be live streaming our 24-hour marathon gaming session starting at 8AM, Saturday, October 20th.  Readers will be able to interact with us in a live chat session while we play video games until we drop!