Microsoft To Drop Price On Surface RT Tablet?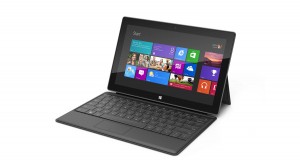 Today, Dealnews feature writer, Louis Ramirez, posited that Microsoft may be looking at the possibility of reducing the price on the Surface RT tablet in the next couple of months by as much as 38%.  The article focuses on estimates from the Boston brokerage firm Detwiler Fenton, who estimates the sales of the Surface RT will range somewhere between 500,000 to 600,000 units for this quarter; well below Microsoft's expected two to three-million units.
A key factor to the low sales is the lack of availability to consumers as the Surface RT is only sold at Microsoft Stores, pop-up kiosks, or direct from Microsoft online.  Retailers such as Best Buy are not selling the tablet.
This wouldn't be the first Windows 8 RT tablet to have a price drop however, as the ASUS VivoTab tablet has been reported to be selling for $399 with the docking station included for free, a $200 discount since its recent launch.
Source: Dealnews