Spicy Horse Seeks To Make Akaneiro: Demon Hunters More Awesome With Kickstarter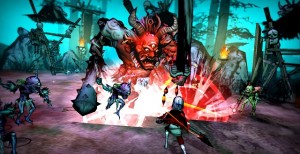 Today, American McGee's Spicy Horse video game studio launched a Kickstarter for their free-to-play dungeon crawler – Akaneiro: Demon Hunters.  The Action RPG, which has been in development since 2011 is currently in closed beta with an open beta expected sometime this month.  But, as with all games, there are development costs associated with a release; and that's where you come in.
According to Spicy Horse's Kickstarter page, "We desperately want the final form of Akaneiro to represent the great amount time and effort that's gone toward getting it this far. To finish what we've started and present Akaneiro to our players in a truly final state, we need to deliver our  promised features to all target platforms.
The problem is we're out of time and money to do so."
The company is looking to raise $200,000 to pay the way to realize "the most complete version the game", including the following features:
An Android and iOS Tablet Version
Co-op multiplayer
An Equipment Crafting System, and
Improved Community Support by bringing aboard additional community managers.
Other features to be added include:
"Karma Void" Dungeons – use the crystallized hearts of fallen Yokai to access multi-level dungeons where extra-difficult challenges (and greater rewards) await.
Expanded Narrative elements – more in-game dialogue, and special ally characters added to certain missions. Lore items scattered throughout the world that provide further story for each mission and the game overall.
Lockbox Items & Additional Consumables
Hand/Fist Weapon Class and Mastery
Expanded Weapon and Armor varieties.
Additional Spirit Helper Pet varieties.
Further training levels for all Abilities and Masteries.
Mark of Sacrifice – Recover a portion of lost experience by returning to the site of your death. Earn bonuses by finding Marks left by your friends.
Ghosts of Yomi – New "lost spirit" NPCs added to Yomi Village, providing repeatable quests for special item rewards.
Leaderboards – track and compare a large array of progression stats.
Hunting Squads – organize and brand your characters into a single squad unit, sharing profit, items and other benefits.
Akane Trials – Rank-based achievement  system with rewards.
Improved Chat System with friends list management, room creation and other social features.
Head on over to Spicy Horse's Kickstarter page here.  We here at Gamer Living have had an opportunity to get some hands on time with the game, and have a lot of positive stuff to say about it.