Injustice: Gods Among Us Release Date and Battle Edition Revealed
Warner Bros. Interactive Entertainment and DC Entertainment today announced that Injustice: Gods Among Us will be releasing on April 16th on the Xbox 360, and PlayStation 3.  In conjunction with the release date, WBIE and DCE have also announced a digital comic series that will prequel the game, and an additional SKU that is available for pre-order: the Battle Edition.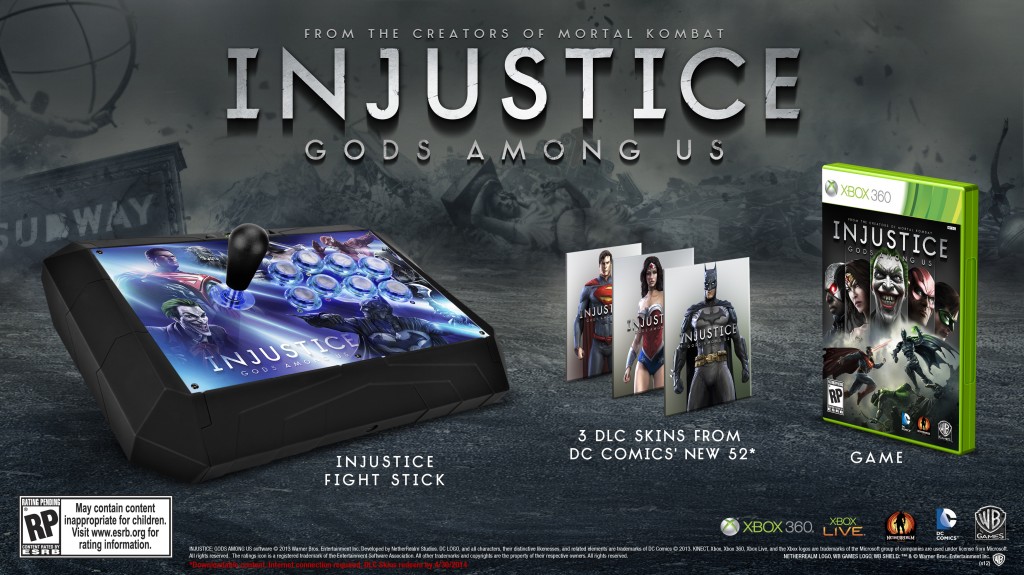 The Battle Edition will retail at $149.99 and include a Gods Among Us fight stick emblazoned with artwork from the game as well as three exclusive skins based on Batman, Superman, and Wonder Woman from The New 52 series from DC Comics.  According to the presser, the fight stick controller is lightweight and features a non-skid foam underside, a lockout feature for the Start, Select, and Guide buttons, and adjustable illumination for the buttons and joystick.
Also launching today is the comic book prequel series for Injustice: Gods Among Us.  The digital series starts today with Issue #1 with additional chapters releasing every Tuesday.  Issue #1 is available on the DC Comics app (Comixology), iBookstore, Kindle Store and Nook Store.  Chapters will also be collected and made available in print monthly.
***EDITOR'S NOTE*** – A correction has been made.  The original press release indicated that the Battle Edition would be made available on the Nintendo Wii U.  A new release has been issued stating that this information was incorrect.