Forza and GT5 Get You Close To The Real Thing, But NAIAS 2013 Gets You Closer
Being born and raised in the Motor City, cars are in my blood. Whether it's going for a long cruise along the Detroit Riverfront or in the downtown core of Toronto, going full out in a quarter-mile, or getting behind the wheel in a racing sim, I love to drive.  While driving a virtual rendition of an exotic car costing in the hundreds of thousands of dollars may be fun, there's nothing so exciting as getting some real tactile contact with these dreams on wheels.  So, with the North American International Auto Show in full swing in Detroit, Michigan, I couldn't resist taking a look at some of the best that the auto industry has to offer for 2013.  I, along with super keen photographer Brad Goldring and good friend Taner Bosnali, walked the floor and decided to choose our picks for the best concepts that we'd love to see in in Forza Motorsport and Gran Turismo 5, and got a good close look at some of the cars that are already in the games.
10. The Ferrari F12 Berlinetta – Ferrari's newest Touring car. Its 64-degree V12 delivers 730 horsepower and is absolutely gorgeous. Its huge sweeping lines down the side make the car look sleek, while the front end takes the best of the Ferrari 599 and 458 Italia and melds them together in perfect harmony. Break out the piggy bank though, this car bases out in the low $300,000s!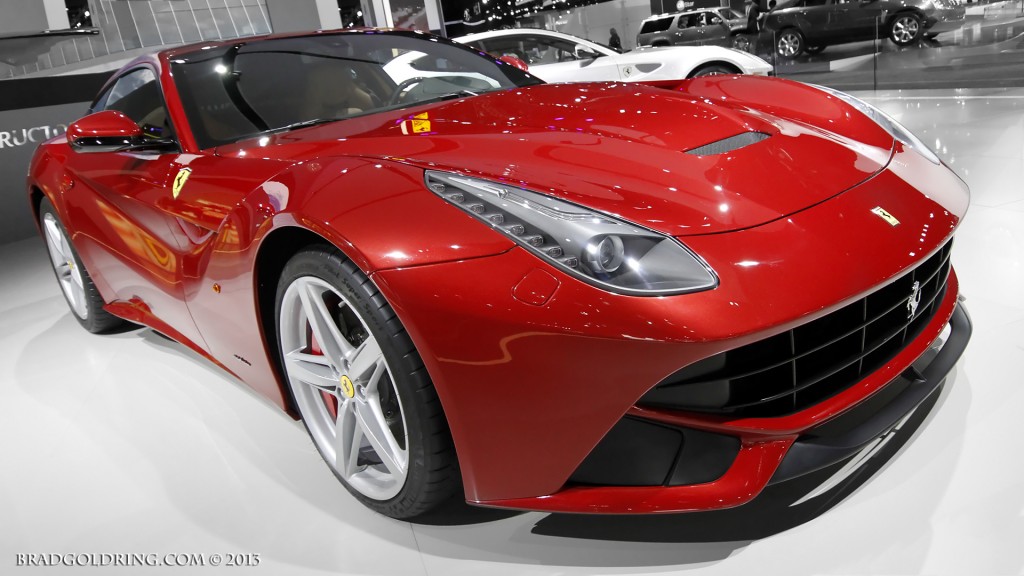 9. The Chevrolet Corvette C7 – Polyphony Digital beat Turn 10 to the punch on this one to release the 2014 Chevrolet Corvette C7 model as downloadable content for Gran Turismo 5. Taking cues from the C5, C6, as well as the classic C4 Stingray models, the new 'Vette sports a more luxurious interior, and a rakish rear end that reminds me a bit of the current Camaro. Chevy's LT1 makes a return with this new model, with the all-aluminum V8 delivering 450hp and 450 lb/ft of torque that is sure to make you smile – at least until we see the next-gen ZR1 model of course. If you get a chance to hit this booth at the show, check out the back of the booth. You'll find a couple of racing setups running Gran Turismo 5 so you can take one for a virtual test drive yourself!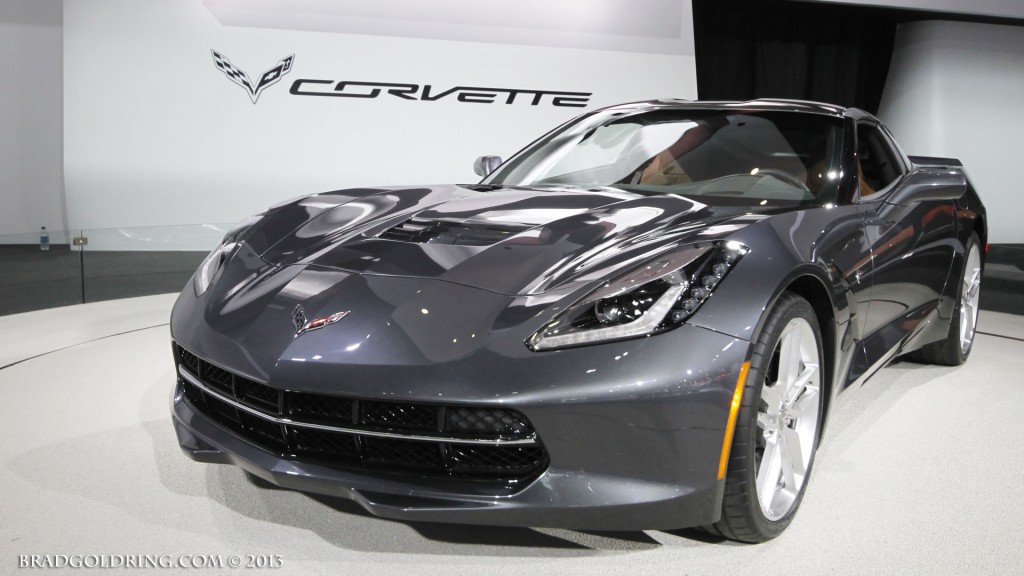 8. The Maserati GranTurismo Sport – Maserati's latest rendition of the GrandTurismo Sport is most definitely not a disappointment in any color that was shown off at this year's NAIAS. With curves in all of the right places, you'll be hard pressed to find a bad angle on one of these Italian luxury sports cars. The specs on the GranTurismo S don't disappoint either: the Ferrari-made 4.7 litre V8 pushes the 4,100lb of steel, aluminum and carbon fibre to a top speed of 185 miles per hour with its 453 horses under the hood. Unfortunately for us, this was one of the few "look, but don't touch" cars. Nevertheless, it was an impressive sight to see.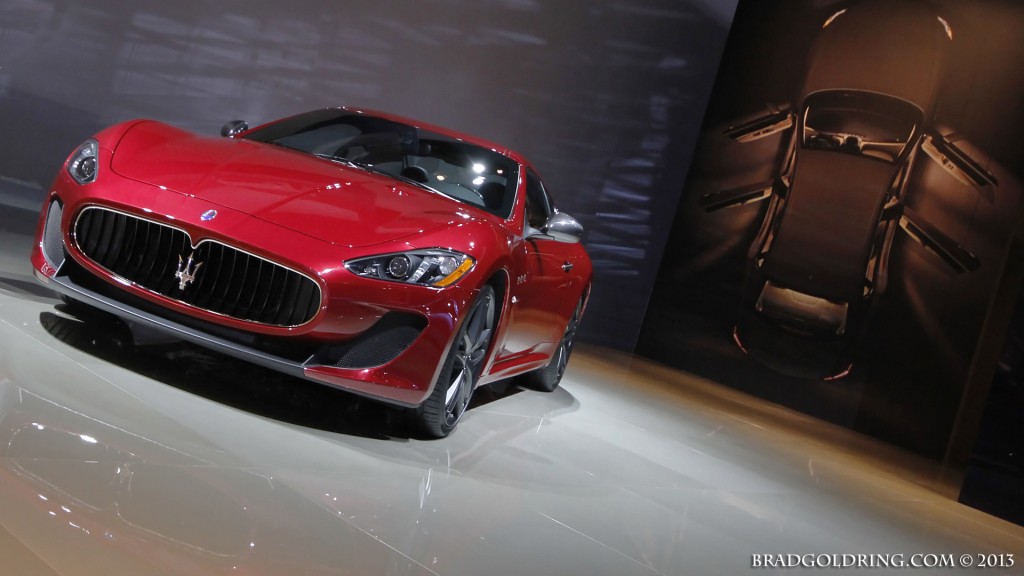 7. Lexus LFA Nurburgring – A favored car for Forza and GT5 fans alike, the Lexus LFA makes an appearance at the auto show sporting the Nurburgring Package. While I'm not a fan of the carbon fibre rear spoiler, you can't possibly ignore the immense presence that the car holds. Outrageously overpriced, meticulously engineered, and wickedly fast (managing a lap time of 7:14 on street tires at the Nurburgring itself), the car is a wet dream for gearheads and nerds alike.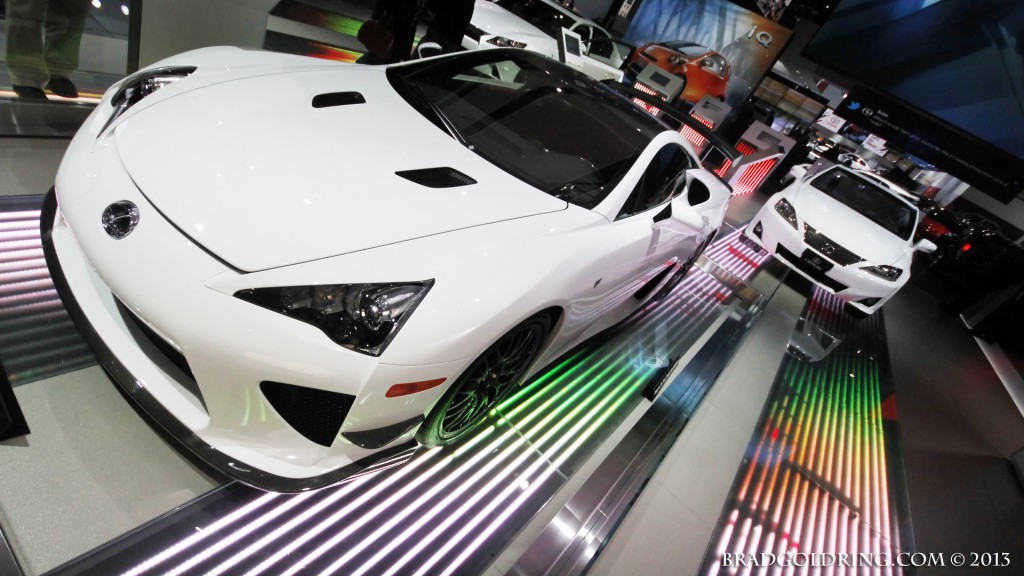 6. Ussain Bolt's Nissan GTR – If you're going for obnoxious, you might as well go for the gold as Nissan did with Ussain Bolt's GTR. The gold-colored coupe with steel grey wheels is definitely turning plenty of heads (including ours!) at the show. The interior is trimmed with real gold too! This 545bhp, 0-60 in 2.7 second one-off will be auctioned off on eBay to benefit children in Jamaica.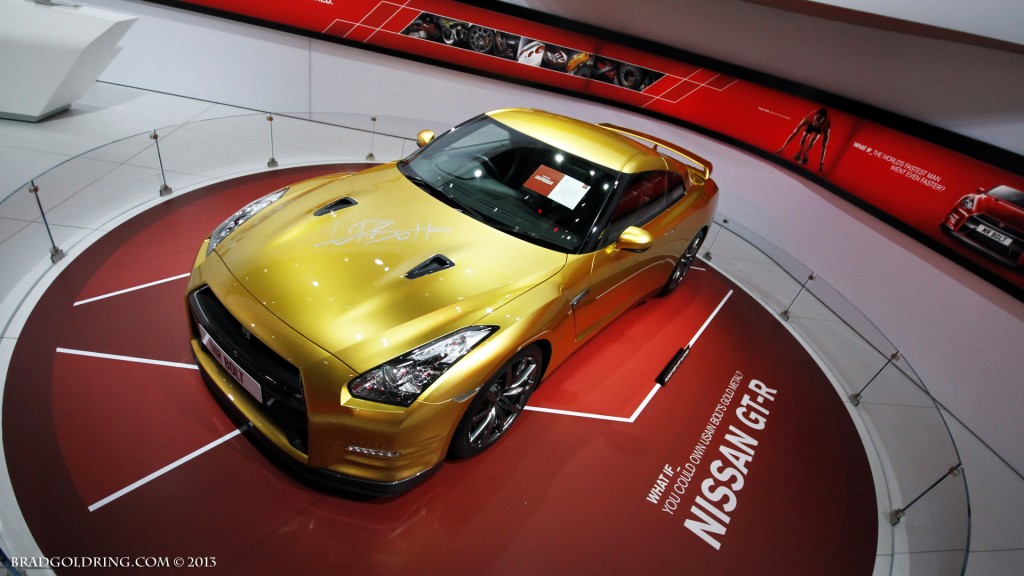 5. BMW i8 Concept – The BMW i8 is flat-out one of the coolest cars that we saw at NAIAS, and one that might even get the environmentalists to froth a bit.  Sporting a 131 horsepower electric motor, as well as a turbocharged, 1.3 litre, 232 bhp gasoline engine, this hybrid can combine the power of its engines to blast the car down the track from 0-60 in 5 seconds. Above all else, this car looks like a masterpiece from any angle you view it from. Don't take it down the freeway though; that windshield isn't likely to live long as it extends almost all the way down to the grill.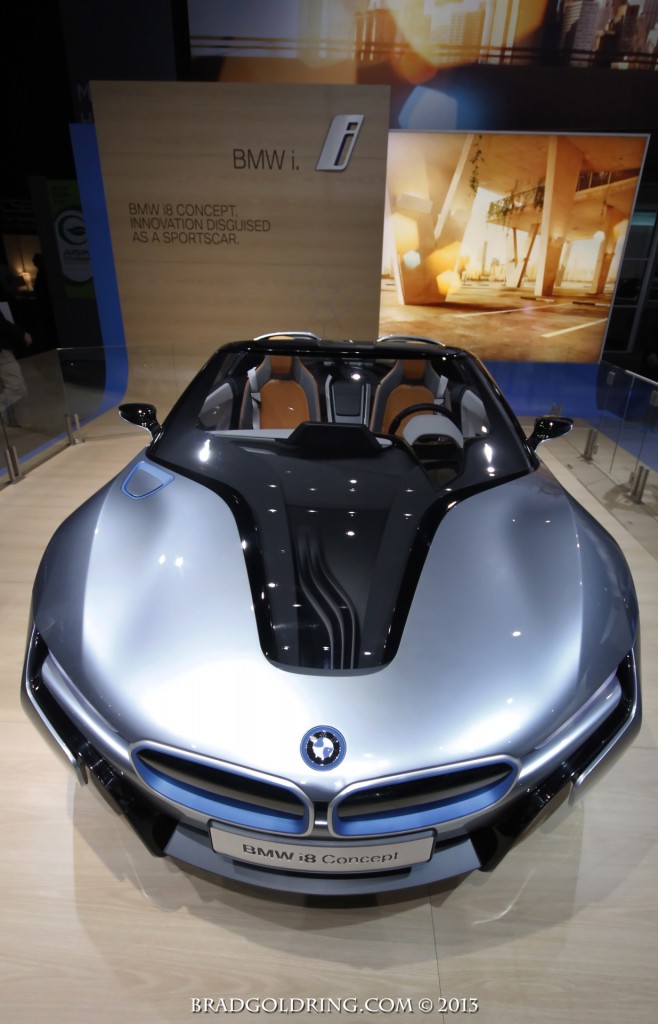 4. The Scion FR-s GT86 – Toyota's reasonably-priced sportscar returns to the auto show in style. I got to sit in a fully loaded FR-S for the first time this week, and oh boy, am I impressed! The racing buckets are comfortable, capable of gently hugging even for a portly gentleman such as myself, with the cockpit reminding me of my MR2 days. Sequential paddle shifters are available in the automatic model, and the 2-litre, 200 horsepower boxer engine plus rear wheel design is sure to impress any sportscar enthusiast. You can acquire a fully loaded FRS for just around $32,000! This will be at the top of my list as soon as my Cruze is paid off.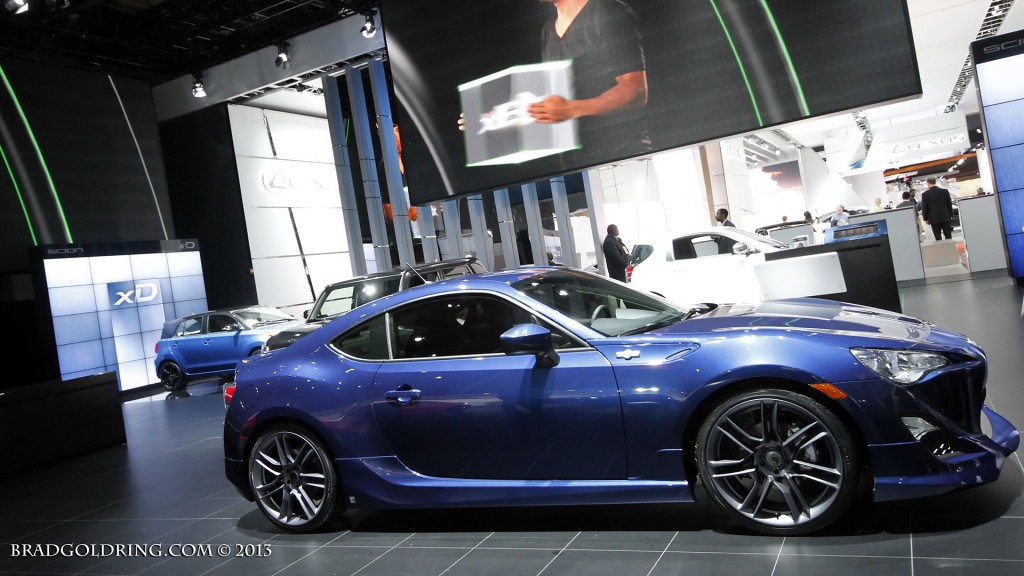 3. VL Automotive Destino Concept – I've often dreamed of ripping the electric motor innards out of an EV and throwing a gigantic, gas-guzzling, carbon spewing monstrosity into it. Of course, my reasons were more to make a political statement about electric vehicles, and not for performance.  Regardless of intentions, someone already beat me to it.  VL Automotive's Destino Concept car takes the Corvette's supercharged LS9 and drops it into the Fisher Karma chassis to the tune of 600+ horsepower. VL has reportedly ordered 20 rolling Karma chassis from Fisker to make additional Destinos. Well played, Mr. Lutz. Well played.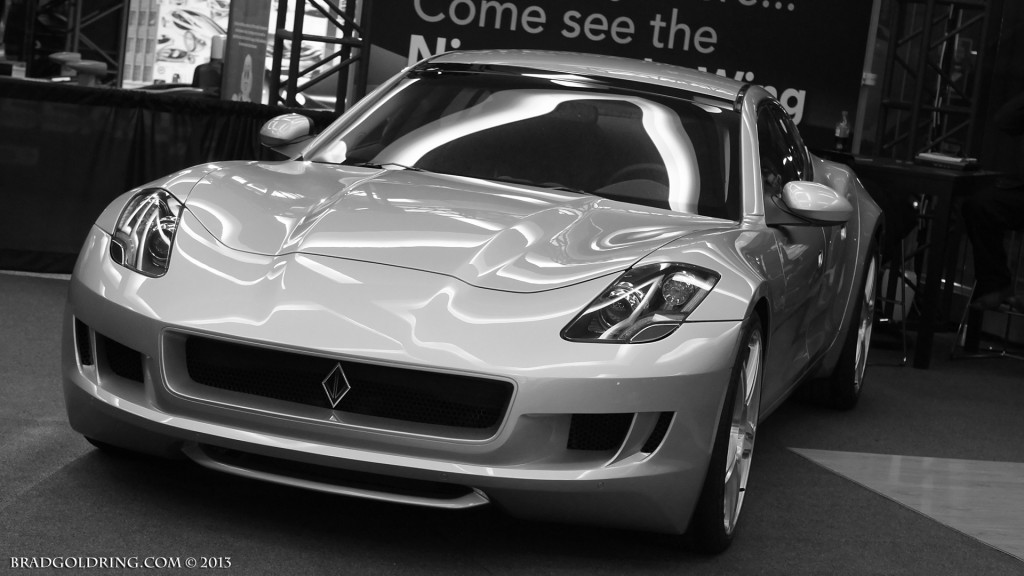 2. The 2013 Mopar Dodge Viper SRT – The 2013 Viper made a big splash with gamers in Forza Horizon, and there's no doubt as to why. But give the car to Mopar and let them go nuts, and what you get back is just pure, sweet bliss. No final price on one of these with all of the add-ons installed, but we're pretty sure that the sticker won't be as pretty as everything else is.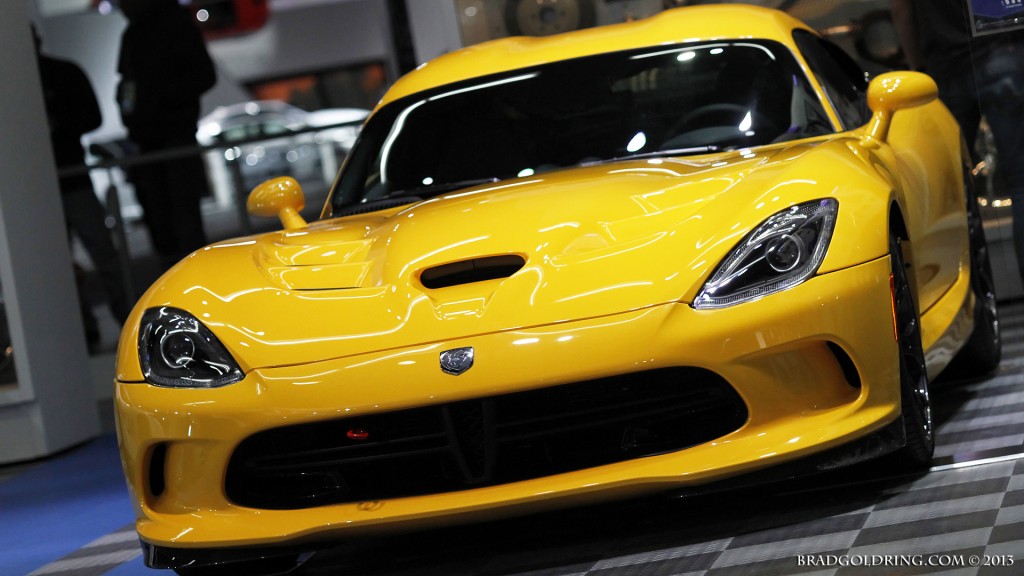 1. Acura NSX Concept – Hands down our favorite car at the show. You can't find a bad line on this car anywhere, and the aluminum and carbon fibre wheels are simply stunning. This hybrid supercar is most certainly shaping up nicely. The only question right now is, exactly how much cash can you sell your soul for to put a down payment on one.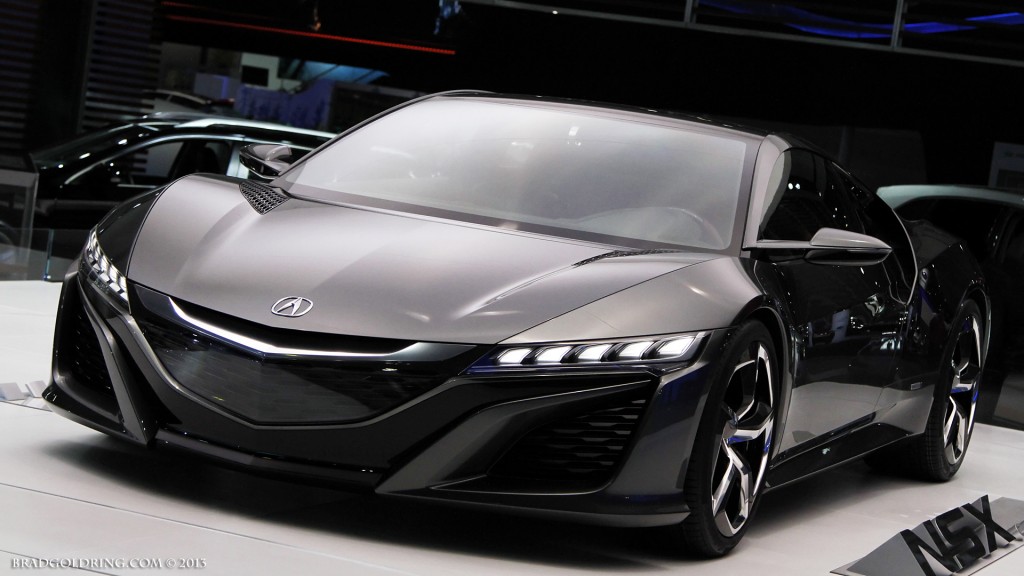 The North American International Auto Show opens to the public today in Detroit, Michigan at Cobo Hall and runs all week.  Many thanks to Brad Goldring for supplying the photos.  Take a look below for some bonus photos that he left us to post, and if you decide to use one of them for a desktop, feel free to drop him a comment below!  You can also check out more of his work here.