Indie Games: Bloober Team's Deathmatch Village Making Its Way To PS3, PS Vita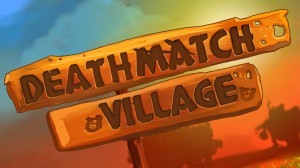 Greetings all! This is Michał from Bloober Team, a Polish indie game developer. We're a bunch of gamers and we've set out to create titles we'd want to play ourselves so… let me ask you something. How many F2P games for PS3 do you know? Not so many, I guess. And what about Cross Play? Seems cool but you'd love to use it more often? Well, this is about to change.
Ladies and gentlemen, we would like to announce a brand-new IP created for our producer Freeky Games… Deathmatch Village, a free-to-play 3-on-3 multiplayer game exclusive for PlayStation 3 and PlayStation Vita. We give you dozens of weapons, items and skills to use liberally on interactive arcade arenas packed with fast-paced, guns-blazin' & axe-slicin' action. And when you feel like having a rest, relax in your own village, where you can customize characters, modify loadouts and visit multiple buildings – from the herbalist's shop to the training ground.
And you will finally see how great the Cross Play functionality can actually be! How so? It's really simple. Imagine a friend drops by and you want to show them this awesome new multiplayer game you're so fond of. "Great! I've got PS3 and PS Vita! We can do that! No, wait… we can't. I've only got one game." Sounds familiar? Let's face it; nobody's going to buy the same product twice just because they own two consoles. But since we're offering our game for free, it's not an issue anymore – just download it and enjoy it wherever you want. This is the essence of Cross Play for us.
What's more, thanks to using the Cross Save feature and sharing the same profile along with all your Trophies and overall progress on your PS3 and your Vita, any extra content you decide to get on one system becomes immediately available on the other. So this is actually a 2-in-1 deal!
And we can't forget that the core of every multiplayer game is its community – in our case it's going to include not only the PS3, but also the PS Vita users. With such a huge fan base you'll never run out of people willing to compete with you!
We're planning the release for Q2. Stay tuned for more details!