Injustice: Gods Among Us Demo Confirmed for Xbox 360 and PS3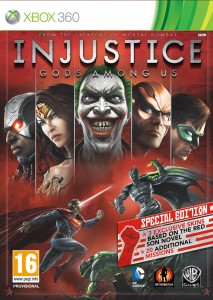 Good news for fans of the DC universe and fighting games.  Today, it was announced by Warner Bros. Interactive Entertainment and DC Entertainment that a demo for Injustice:  Gods Among Us will be available to the Xbox 360 and Playstation 3.
The demo is set to drop on April 2, 2013 for the PlayStation Network in America and April 3, 2013 for the Playstation Network in Europe and Xbox Live Marketplace.  The demo will feature Batman, Wonder Woman and Lex Luthor, three of the playable characters from the full game.  The fights will be set in the Gotham City arena and fans will have a taste of each of the characters unique powers and moves as they have the opportunity to destroy parts of the city while fighting.
Injustice:  Gods Among Us is scheduled for release on April 16 for Xbox 360, Playstation and Wii U.  The game  features many of the characters from the DC Universe including Superman, Batman, Harley Quinn, Solomon Grundy and many others.  For the players, the lines between good and evil are blurred and they can expect epic battles.
Also, a new trailer has been released featuring Black Adam.