New DLC Raises Level Cap In Borderlands 2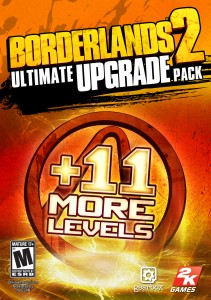 Today, 2K and Gearbox announced the release of new DLC called the Borderlands 2 Ultimate Vault Hunters Upgrade Pack that will raise the level cap from 50 to 61.  It also allows a 3rd play-through of the game via Ultimate Vault Hunter Mode and a new pearlescent colored weapons tier (the rarest on Pandora).
The pack is being offered for $4.99 (400 Microsoft points).  But as a special treat and a way to thank their most die-hard fans, the pack will be free to those who purchased a seasons pass.
"Millions of vault hunters have spent countless hours adventuring their way through the Borderlands 2 universe," said Randy Pitchford, president of Gearbox Software.  "Raising the level cap takes a significant amount of man hours, but we know fans are eager to continue looting Pandora, and so we're rewarding our Season Pass holders by offering the Ultimate Vault Hunter Upgrade Pack for free as part of the celebration."
The season pass for Borderlands 2 costs $29.99 (2400 Microsoft Points) and contains nearly $45.00 worth of content. Now included in the pass are the Ultimate Vault Hunter Mode, Captain Scarlett and Her Pirate's Booty, Mr. Torgue's Campaign of Carnage, Sir Hammerlock's Big Game Hunt and a fourth add-on to the campaign which is scheduled for release in June.
To get more info on Borderlands 2 you can visit the website, like their Facebook page or follow them on Twitter.