Pre-Orders Available for Victoria II: Heart of Darkness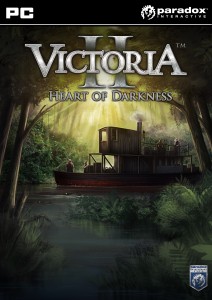 On April 16, 2013, Paradox will release the new expansion pack to their 19th century strategy game Victoria II.  Select retailers are offering bonuses for pre-orders of the game such as a gold edition of Victoria I Complete, while others will be offering 75% off of other Victoria titles with the pre-order purchase of the game.  Here is a full list of available retailers.
Heart of Darkness is the second expansion pack for Victoria II and offers a lot of new features to the game, including:
A new colonization system allows you to expand your empire while struggling to maintain control of overseas colonies.  Be careful, if colonial conflicts get out of control you will have to resolve them through diplomatic negotiations or risk a war.
The new naval combat system has been revamped with more details including new gun ranges and the maneuvering battleships into battle positions.  In order to bridge the gap to the Dreadnought class of ship, new battleships have been added to the fleet.
Use International Crisis to your advantage.  Being a lesser power, you'll need to find flashpoints in your area.  You can stir them up and then use your diplomacy skills to get the Great Powers to right the wrongs against your own nation.
A new newspaper system will allow you to follow global events.  Everything from matters of interest to reports of war will be covered in over 60 newspapers, both historic and otherwise, for you to read.
More information about the game and upcoming expansion can be found at the official website.