EA Drops First News on NCAA Football 14
EA announced today details on their upcoming NCAA Football 14 game due to be released on July 9, 2013 for the Playstation 3 and Xbox 360 with their first producer video for the game.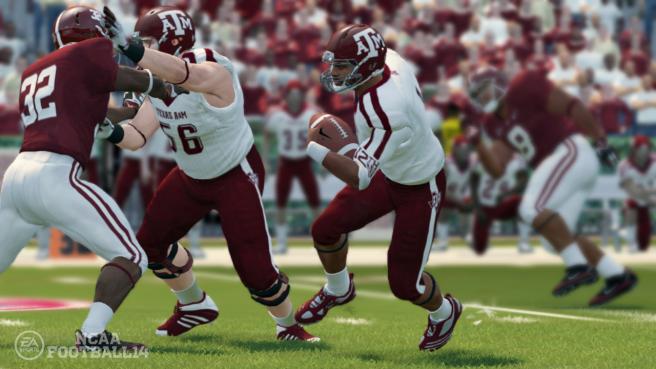 "This year marks the greatest leap forward in a generation for the NCAA Football franchise," said Randy Chase, Marketing Director for EA SPORTS. "The inclusion of the Infinity Engine and several new gameplay features make this year's game feel incredibly fresh and authentic, and the introduction of Ultimate Team will give fans the chance to take the field with some of the most well-known players of all time."
The Infinity Engine 2 is being introduced in NCAA Football 14.  College football's unpredictability will be unlocked now with real-time physics and a new force impact system.  With the new engine players can experience user-controlled stumble recoveries and hard cuts.  The force impact system enhances truck moves and the Hit Stick and reactions are more realistic when stiff-arming defenders.
With 30 new option types, you'll be able to play truer to your team.  Using the Spread Option, Zone Read and more will help you put more points on the board for your team.  You'll also be able to see key defenders before the snap.  This way you can predict their movements and know when to handoff or keep the ball.
Additional information on NCAA Football 14 Playbooks will be released on the following dates:
Presentation (to be released 4/18) — NCAA Football 14 gets you closer to the action than ever before and tells the story of every game. Feel the drama of college football from a whole-new perspective.
NCAA Football Ultimate Team (to be released 5/15) — The much-beloved mode comes to the college game, allowing you to build up an unstoppable team.
Dynasty (to be released 5/28) — There's no single path to success in college football, so build up your program into a powerhouse to fit your strengths and style of play by utilizing the brand-new Coach Skills.
Play a Season (to be released 6/17) — Focus purely on the on-field action and take your favorite team to a bowl game.
You can keep up to date with the game by visiting the NCAA Football website, Facebook and Twitter, or by keeping an eye on Gamer Living for the latest news.