Etrian Odyssey 4: Legends of the Titan is Coming to Europe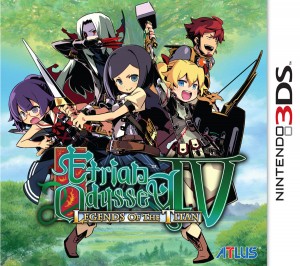 NIS America has announced that Etrian Odyssey IV:  Legends of the Titan will be released in Europe this summer on the Nintendo 3DS.  The game will be available both at retail stores and as a digital download at the Nintendo eShop.
Fans of dungeon crawlers and RPG's will find lots of gameplay to enjoy with this release exclusively for the 3DS.  A demo including 2 dungeons will be released in early summer for those who want a sneak peak at the game before its official release, so keep your eyes peeled.
Players can chart their route and create their own maps using the 3DS' bottom screen.  You'll be able to customize your characters and job classes easily and for those new to the RPG genre, there is now a "casual" difficulty option to break you in.
With more than 30 hours of gameplay and 3D dungeons and characters, Etrian Odyssey IV is looking to be quite an epic.  As added bonuses, players can now upgrade their guildships to battle in the clouds and can access other players guild cards to trade using the StreetPass feature on the 3DS.
In the game, the tree Yggdrasil (pronounced eeg-draw-sill) can be seen anywhere in the town of Tharsis as it loomed on the horizon.  But the tree has never been seen close up as it was located in a distant land where no one has ever been.  However, the Outland Count of Tharsis sponsors and Explorers Guild to reach Yggdrasil to discover its secrets.  Arriving in Tharsis, you are the latest explorer contracted by the guild to seek the tree, find treasure and solve Tharsis's oldest mystery.
More information on the game can be found from the official website.