Dreamworks Teams Up With Ford Motor Company for Need For Speed Movie
Today, Dreamworks Studio and Ford Motor Company have announced a partnership to make a Need For Speed movie adaptation of the hit video game series due out for release on March 14, 2014.  This announcement coincides with the unveiling of a one-of-a-kind Ford Mustang for use in the Need For Speed Movie.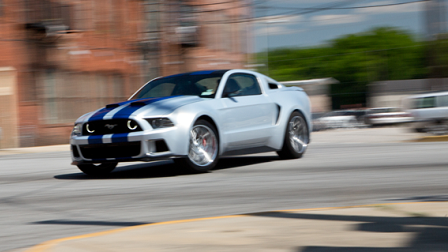 The new Mustang was created specifically for the movie and will be prominently featured in the movie itself.  The car features a custom-made wide body, unique 22-inch alloy wheels and larger air intakes for the V8 engine enclosed in the Mustangs classic twin-nostril hood.  Other than the new Mustang the star of Breaking Bad, Aaron Paul, will be starring in the new movie.
"'Need for Speed' is rooted in Americana, and when we were casting our hero car for the film, Ford Mustang was the obvious choice," said Snider. "With its 50-year history in film, the iconic Mustang is the perfect co-star for Aaron Paul. We are privileged to have such an esteemed partner like Ford working with us on this film and look forward to seeing their Mustang up on the big screen next year."