Microsoft 2013 E3 Media Briefing – Innovation Abound With Familiar Faces and New Games

On Monday, June 10, 2013 in beautiful Los Angeles, we at Gamer Living were up at the crack of dawn to join the ranks of early-bird journalists in a lineup outside of the Galen Centre for Microsoft's 2013 E3 Media Briefing. Friendly Microsoft staff in black and green who were eagerly greeting people directed us through the maze of gates. Despite the early hour (we were within the first 100 people there at 6:30a.m.), there was a general undercurrent of energy and barely suppressed excitement among the attendees.
One important lesson we and our friends Gil and Diana from Gamer's Intuition learned is that no matter how much lead time you think you have before the doors open, do not under any circumstances venture too far from the line for a coffee run! Our group split up with two of us staying in line, while the other two went in search of caffeine and sustenance, thinking we had more than enough time before they'd let us in. Microsoft then decided to reveal that they were treating the first 500 people in line to Priority Seating.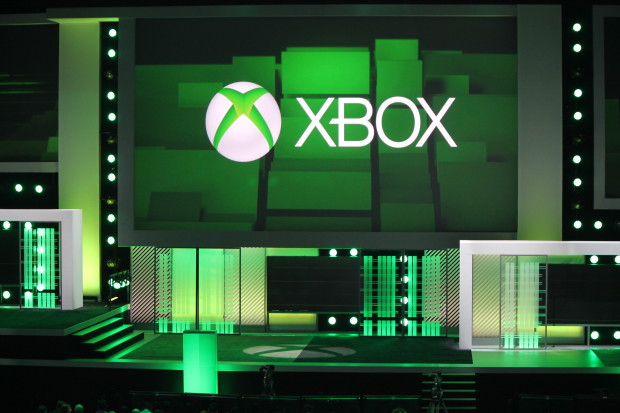 Luckily, after much confusion, panic, coordination through texting, and talking with the Microsoft staff, things worked out and our group was reunited, happily standing in yet another lineup indoors and waiting for our special seats.
The conference began a little after 9:30a.m., with the opening video showcasing Konami's Metal Gear Solid V: The Phantom Pain for the Xbox One. The brief preview of actual gameplay drew our attention to the key features, such as the open-world gameplay and real-time weather. The demo promised an immersive game with a riveting storyline, filled with tactical espionage and deeper stealth action.
And that was only the beginning.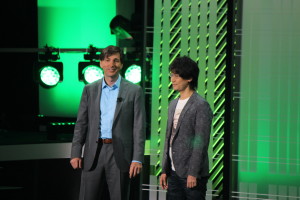 In quick succession, speakers laid out the future of the Xbox 360 and the upcoming Xbox One for us: the 360 has been updated to a smaller, sleeker model (available as of June 10th). Also, from now until the Xbox One's launch this November, Xbox Live Gold members will be entitled to two free game downloads per month. Once the new generation Xbox hits the markets, Gold memberships can be carried over to the newer console. Many gamers will also be happy to note that in place of the discontinued Xbox Live Family Gold Pack, Microsoft has announced that one household can share the benefits of one Gold membership, without needing the Gold account to be logged in. As if that wasn't enough, Microsoft will also be getting rid of their confusing Microsoft Points system, which will be replaced by real-world currency.
To tide us over until the launch of the next-gen Xbox console, Yusef Mehdi (Microsoft's Head of Marketing) introduced three new Xbox 360 games, including World of Tanks: Xbox 360 Edition (coming out this Summer), featuring a 15-vs-15 tank warfare that will be free to play with Xbox Live Gold memberships. In addition to the highly-anticipated Dark Souls II (to be released next March), attendees were reminded that the Xbox is also a family-oriented console when we got a preview of Max: The Curse of the Brotherhood, a cartoonish game that revolves around a young boy who learns the hard lesson of "be careful what you wish for" after he wishes his brother away.
Those first four game previews set the tone for the rest of the press conference, as Microsoft flung titles from a large spectrum of genres at the audience. Those who are interested in first-person shooters, RPGs, and action were drooling over Xbox teasers for games such as Battlefield 4, Dead Rising 3, Witcher 3, and Halo for the Xbox One. In addition to stunning visuals, many of these boasted new features like open-world gameplay, Kinect voice commands, 60 frames per second (here's looking at you, Master Chief), and the integration of Smart Glass.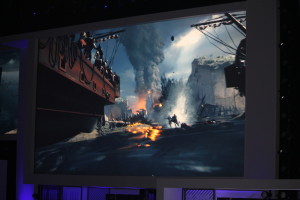 While there were obvious fan-favourites that had the audience's adrenaline pumping, there were a few surprises that truly stole the show. Delighted gasps quickly followed by screams and cheers filling the auditorium when the simple "KI" showed up on the screen, announcing that Killer Instinct is finally coming to the consoles. The brilliant in-game demo of Jago and Sabrewulf fighting was used as a segue into the announcement of how Twitch will be integrated into Xbox One. Twitch will allow users to edit, customize, and upload their game content online, potentially making instant sharing and social networking integral parts of console gaming world.
Stunning graphics and innovative gameplay brought the experience to a whole new level when a live demo of Project Spark unfolded before our very eyes. The audience was filled with wonder and enchantment as we watched how players will be able to craft their games from the ground up in Project Spark, using a combination of voice commands and Smart Glass. Not only are you creating your landscapes and setting the seasons, but also adding characters, allies, and even enemies. Once your build is finished, you can play and share with the Xbox Live community. Additionally, during gameplay you can manipulate the in-game elements to your advantage. The sky's the limit!
Similarly, fascination and intrigue spread through the crowd when the video for Remedy Experience's Quantum Break came up on the big screen. The sheer beauty and physics of a world where time can stutter and freeze, suspending even shards of glass in mid-air, captured the audience's attention and had many people whispering excitedly about this futuristic title.
In perhaps the biggest act of showmanship during the Microsoft Briefing, a dashing cherry-red McLaren P1 (one of only two in the world) rose up from beneath the stage during the unveiling of Forza 5. It acted as a comparison between reality and the incredible design of its virtual in-game counterpart, with sleek visuals and brilliant lighting effects that captured the true spirit of such a rare vehicle. Surprisingly, the graphics were not the main feature, as Game Director Dan Greenawalt announced an innovative and revolutionary game mechanic, the Driveatar, which is promised to be the end of AI. Connected to the Cloud, the Driveatar will learn your in-game driving behaviours and then mimic your skills in multiplayer against other Cloud-powered opponents when you're offline. This 'learning agent' also tries to give you helpful tips on defeating your rivals, based on their common driving habits.
All good things must come to an end, and the press conference closed with a bang when Respawn Entertainment's unveiled the gorgeously-rendered Titanfall. Action was abound in the preview, with parkour-esque gameplay, man vs. mech battles, and gunfire and explosions filling the air.
With the console rivalry heating up between Sony and Microsoft, it's nice to see that Microsoft is taking some initiative in introducing several new directions with regard to integrating gameplay, technology, and even social networking. Xbox One will launch this November, 2013, and be sold for $499.
**This article was written collaboratively with Rachel McBurney