NEOGEO X Game Collections Now Available

Tommo Inc and SNK Playmore are proud to announce that the NEOGEO X Classics Collection Vol 1-5 and the NEOGEO X Mega Pack Vol.1 are now available across North America.  Each of the collections are made exclusively for the NEOGEO handheld system.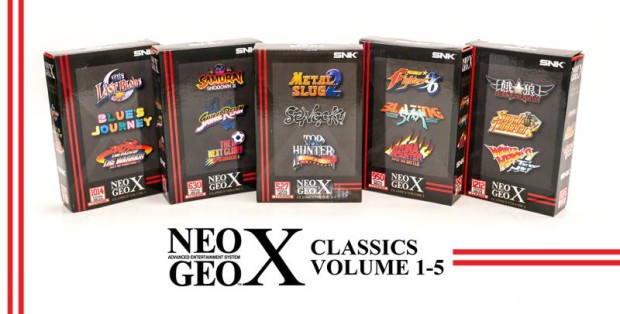 Each classics collection will contain three classic games from the NEOGEO system while the Mega Pack will include all 15 games.  Each collections games are listed below:
Classic Collection 1 – Sengoku, Metal Slug 2, Top Hunter:  Roddy and Cathy
Classic Collection 2 – Samurai Showdown 3, Savage Reign, Super Sidekicks 3
Classic Collection 3 – The King of Fighters '96, Blazing Star, Kizuna Encounter
Classic Collection 4 – Garou:  Mark of the Wolves, Shock Troopers, World Heroes 2 Jet
Classic Collection 5 – The Last Blade, Blue's Journey, Art of Fighting 3
Mega Pack                       – All 15 games
Each of the collections (vol 1-5) will have the three games on one card.  The Mega Pack will include all 15 games on a card and comes in a hard "clam shell" collector case.  The pack will also include a bonus information book and sticker sheets.  Tommo will also include the ROCKET CABLE, a high speed charging cable at no extra cost with all packs.
Also included on each gamecard will be Firmware Update v500 which will fix several audio, video, control and UI issues as well as overall performance improvements.  A new feature of the update will be the ability to save games for most existing and upcoming titles.
More information on the collections and update can be found at the system's website.