Walking Dead: 400 Days Launch Trailer Released

The Walking Dead:  400 Days releases across North America no the Playstation Network today.  To celebrate, Telltale Games has released a new launch trailer for the DLC.  The trailer will give you a brief look at the five anthologies that make up the horror anthology.
The dates for the game release for other platforms are as follows:
Wednesday, July 3rd – PC/Mac (Steam, Telltale Games Store, Worldwide)
Friday, July 5th – Xbox Live Marketplace (Worldwide)
Wednesday, July 10th – Playstation Network (SCEE, Europe)
Thursday, July 11th – iOS App Store (In-App Purchase, Worldwide)
As a special bonus for Playstation owners, the first episode of The Walking Dead:  Episode One – A New Day will be available for free on the Playstation Network in North America for a limited time.  Players will need to have at least one episode in the series in order to purchase The Walking Dead:  400 Days DLC for $4.99 US or equivalent.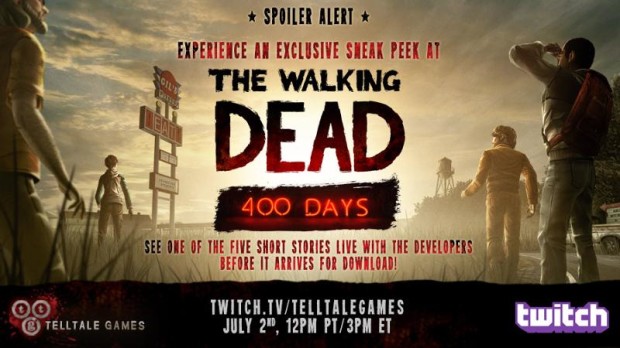 Telltale Games will also be providing a sneak peek at one of the five short stories today on Twitch TV.  The show will be broadcast live today, July 2nd, at 12 pm PST / 3pm EST.
The Walking Dead:  Season One will also be coming to Playstation Vita in August.  The package will also include the 400 Days DLC.  Now you'll be able to go on the road for the apocalypse but you'll be able to enjoy the whole season in one convenient package.