Battlelog Keeps You Connected to Battlefield 4

EA has announced the latest installment of the Battlelog.  Now, players will be able to experience the world of Battlefield 4 outside of the game.  You'll be able to connect to the Battlefield community from multiple devices allowing for a much richer network, both inside and outside of the game.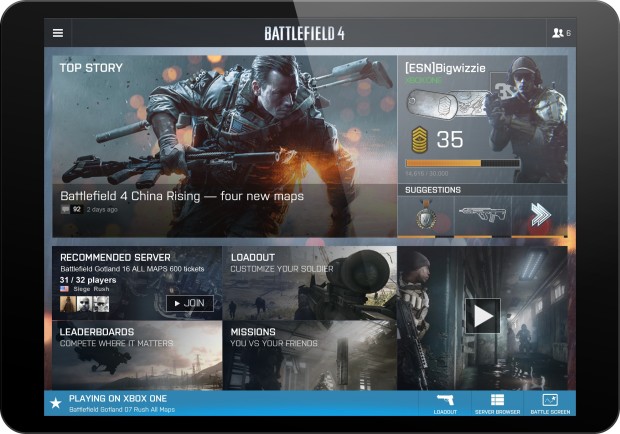 There are a range of features in the Battlelog, including:
Anytime, Anywhere – Battlefield will be at your fingertips no matter where you go.  Whether you're at home, work or traveling you can log into the Battlelog and check out your stats or interact with friends all from your smartphone, tablet, browser or directly through your console.
Battlescreen – The new Battlelog offers a coherent second-screen experience allowing players to better enhance their game.  Highlighting attack points on the mini map, keeping track of squad members or playing as the team's Commander are all reflected back to the game from the Battlelog.
Real-Time Load Outs – Players will be able to switch weapons, change load outs and check progression at any time with real-time results in-game.  You'll even be able to launch a match or select servers from your devices.
Missions – Players will be able to custom create challenges for their friends to complete in.  The Battlelog will also notify players when they've been kicked out of the number one spot.
Geo Leaderboards – Battlelog is introducing targeted, geo-localized leaderboards that will allow players to compete with everyone in the Battlefield community or people in their own city, country or continent.
Battlefield 4 is scheduled for release on October 29 to the Xbox 360, PS3 and PC and will also be released to the Xbox One and PS4.  Be sure to follow them on their website, Facebook and Twitter pages for more info.