Help Luigi's Dreams Come True in Mario & Luigi: Dream Team

Mario's younger brother, Luigi, is having a great year.  The 30th anniversary of the younger of the two brothers is going strong and he's got his own game to prove it.  Mario & Luigi:  Dream Team is being released exclusively to the Nintendo 3DS as part of the celebration.  On August 11th, everyone will have a chance to see what Luigi dreams about.
In the game, players will be able to dive into Luigi's dreams to help save the island of Pi'illo.  You'll be able to use the touch screen on the 3DS to manipulate Luigi and make fantastic things happen in his dream world.  In his dreams, Luigi, has fantastic powers called Luiginary Attacks which can be used to create hundreds of little Luigi's to create towers, hammers or wrecking balls to do battle.  He can also grow in size or alter his environment as needed.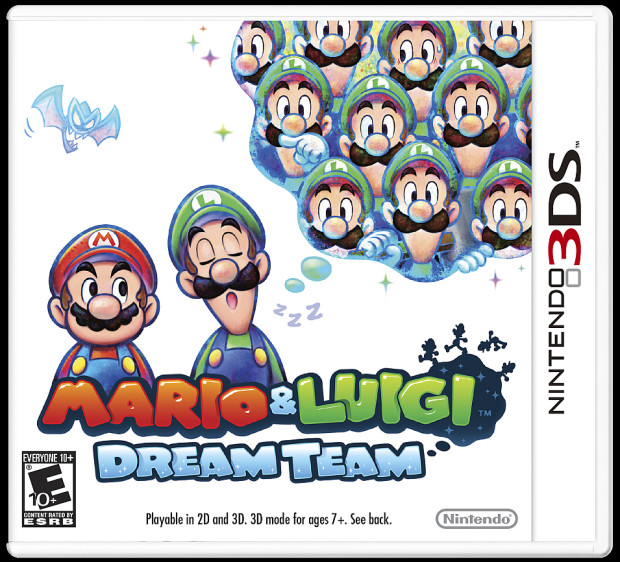 "For 30 years, Mario and Luigi have formed the cornerstone of the video game industry," said Scott Moffitt, Nintendo of America's executive vice president of Sales & Marketing.  "Original and quality experiences like Mario & Luigi:  Dream Team make now the best time to own a Nintendo 3DS."
Mario & Luigi:  Dream Team is the fourth game in the Mario & Luigi series but with a twist.  This is the first time that you'll be able to hop into Luigi's dreams in order to help Mario in the real world.  Using the touch screen, you'll manouver Luigi around the dream landscape to help Mario overcome obstacles in the dream world on the top screen.
The game will release to retail stores on August 11th but will also be available for download from the Nintendo eShop for those that wish to download the game.  Also releasing on the same day will be the new black Nintendo 3DS XL system.  It will be joining the current range of colors for the system – blue, red and pink.  If your favorite color is black and and you've been waiting to get a 3DS until that color was available, now's the time to go out and get one.
For more information on Mario & Luigi:  Dream Team, be sure to visit the game's website.  For more information on the Nintendo 3DS, be sure to visit the Nintendo 3DS website.