Dark Matter Is Coming

Publisher Iceberg Interactive and game developer Interwave Studios have signed a publishing deal for the upcoming horror survival game, Dark Matter.  This side scrolling horror game is set to be released in the fall of 2013.
This is Interwave Studio's second full title and is in the final stages of development and has merged hand painted art styles as well as the latest rendering techniques in order to make this game as terrifying as possible.
Michiel Beenen, Managing Director at Interwave Studios says, "Having worked with Iceberg Interactive before, we are confident that Dark Matter will be in good hands with them and we are looking forward to another great partnership."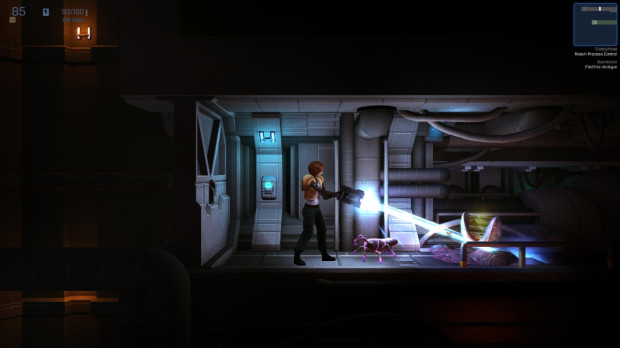 Erik Schreuder, CEO at Iceberg Interactive says, "We like science fiction and we like horror so this was a clear no-brainer for us!  We have confidence in Interwave's commitment to creating quality games and are excited to bring this game to worldwide audiences in the near future.
Dark Matter takes place on a derelict space ship overrun with parasites and a deadly alien presence.  As an ensign on the ship, you must explore gather parts and blueprints to expand your arsenal to four deadly weapons.
Dark Matter is on it's way to Steam Greenlight but needs your upvote.  Be sure to vote on the Steam page.  For more information visit the website, Facebook and Twitter pages.  You can also visit the Interwave Youtube page for more videos.
Previous Image
Next Image