DICE Makes It Easy to Upgrade to Next-Gen Consoles

Battlefield 4 will be coming to Xbox One and PS4 this holiday season and DICE wants to let you know that they've got you covered.
If you've been planning on getting the game for your Xbox 360 or PS3 and were worried about having to restart your stats right from the beginning on the next gen consoles then you need worry no more.  DICE has confirmed that the stats will transfer from current consoles to next gen consoles.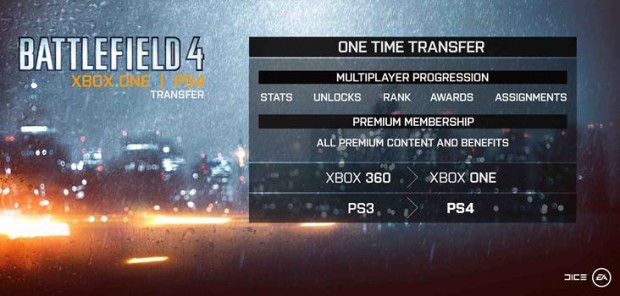 DICE has even more good news for you as well.  They are announcing the return of Premium Memberships for the game.  This means that those who purchase the Premium Membership will have access to themed expansion packs, weekly content and personalization options throughout the year.  And, just as with stats, unlocks and ranks will be transferable to next gen consoles.
On August 20th, EA will be hosting a Gamescom conference.  Tune in at EA's website at 10 am ET to get a first hand look at some of the premium content that will be available and the new Battlefield 4 multiplayer mode and map.  Other games that will be discussed during the conference will be Need For Speed Rivals, Plants vs Zombies Garden Warfare, FIFA 14, EA Sports UFC, Command & Conquer, Sims 4 and much more.
For more information on Battlefield 4, be sure to visit the games blog, Facebook and Twitter pages.