Forza Motorsport 5 Limited Edition and Day One Edition Detailed

Forza Motorsport 5 releases exclusively to the Xbox One this November.  Now, Microsoft and Turn 10 Studios have announced the details of the special editions of the game including the Limited Edition and Day One editions, both of which are now available for pre-order.
Forza Motorsport 5 Limited Edition
This is the ultimate package for fans of the Forza series.  It comes with multiple car packs, VIP membership privileges and packed in content.  The Limited Edition cover will feature the 2014 Audi RS 7 Sportback on the cover as well as contain the following content: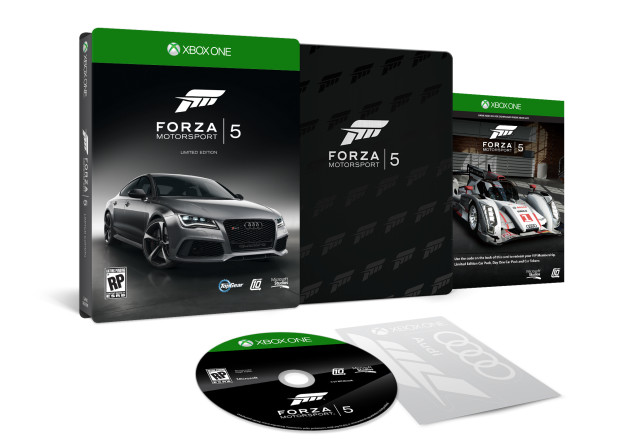 Limited Edition Car Pack – This is a five car pack that will each feature their own Limited Edition livery and be tuned to the top of their respective classes.  The cars included in the back are as follows:
2011 Audi RS 3 Sportback – This car marries performance with practicality.  With 340 horsepower, this car is guaranteed to paste your head to the back of the seat.
2012 Aston Martin Vanquish – This car handles the track as well as it handles the country lanes.  Equal parts style and power make this car a memorable sight.
2013 Ford M Shelby Mustang GT500 – This car's 5.8 liter V8 engine provides power and speed to spare.
2013 McLaren P1 – The successor to the McLaren F1, this car has limitless potential that leaves you speechless.
2013 SRT Viper GTS – An 8.4 liter V10 engine will help you push this car to a top speed of better than 200 mph.
VIP Membership – It's true, membership does have its privileges that includes 2x player reward acceleration, access to exclusive multiplayer events, exclusive in-game player card badge and in-game benefits from the Forza community team.  Finally, as a VIP member you'll have exclusive access to the "Forza Motorsport 5″ VIP Car Pack which includes the following five cars:
1965 Shelby Cobra 427 S/C – This was marketed as "the fastest streetcar in the world".  The 427 S/C has been the most desired of the Shelby Cobra variants.  Although there were plans to build 100 cars, only 53 were built.  As a VIP member, you'll be the exclusive owner of one.
1987 RUF CTR Yellowbird – This car was dubbed the "Yellowbird" by journalists during a test drive event because of the canary like chirping of its twin turbo blow-off valve.  Only 29 of these classics were built.
1991 Mazda #55787B – This is one of the most beloved race cars of all time and has the distinction of being Japan's only winner of a 24 hour Le Mans race.
2011 Ford F150 SVT Raptor – The Raptor is a factory built pre-runner race truck with suspension to match it's under the hood muscle.
2011 Bugatti Veyron Super Sport – Even among hypercars, the Veyron Super Sport stands alone.  This car currently holds the Guinness record for the "World's Fastest Car" with speeds approaching 270 mph.
Day One Car Pack – The cars listed in this pack can be found in the Day One Edition details listed below.
On top of all this, Limited Edition owners will also receive a custom Steelbook case, a decal sheet featuring "Forza Motorsport 5″, "Xbox One" and Audi window decals and 1,250 car tokens ($9.99 value) so that you'll have instant access to any car in the game.  The Limited Edition retails for an estimated $79.99 and is now available for pre-order.
Forza Motorsport 5 Day One Edition
This edition will come with commemorative packaging that matches the Day One edition of the Xbox One as well as the Day One Car Pack which includes:
2010 Audi TT RS Coupe – This car is stuffed to the gills with modern tech which makes this the first model to carry Audi's famed RS badge.
2013 Ford Focus ST – This car debuted with the same 250 hp 2.0 liter turbocharged EcoBoost engine from the much larger Ford Explorer SUV.  This car really packs a punch.
2011 Lamborghini Gallardo LP570-4 Superleggera – This cars chiseled form has been carefully designed to provide maximum impact when you see it.  However, it's best viewed when the car is running at top speed.
This package will retail for $59.99 and is now available for pre-order.
Standard
Edition

Day One Edition

Limited
Edition

Estimated Retail Price*

$59.99

$59.99

$79.99

Full Game

•

•

•

Day One Car Pack

•

•

Limited Edition Car Pack

•

VIP Membership, $19.99 value

•

Car Tokens, $9.99 value

•

Steelbook™ Case

•

Decal Sheet

•