Shin Megami Tensei: Devil Summoner: Soul Hackers Coming to Europe

NIS America has announced that their Nintendo 3DS video game, Shin Megami Tensei:  Devil Summoner:  Soul Hackers will be released across Europe on September 20 and will be downloadable via the Nintendo eShop on September 25.  Originally released for the Sega Saturn in Japan, Soul Hackers will have a variety of new gameplay features.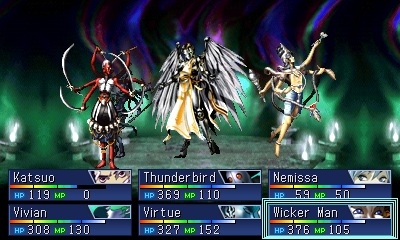 Soul Hackers is a first person dungeon RPG set in the future where technology and magic have merged.  The game tells the tale of a city at the pinnacle of technology, but with a terrible secret.  Now, a group of hackers must take on a centuries old society of mystics in order to determine humanity's fate.
Previous Image
Next Image
Features of the game include:
Keeping the Tradition of Shin Megam Tensei:  You'll have the option to either fight enemy demons or negotiate with them to try and turn them into allies and teammates.
Classic Dungeon-Crawling Strikes Back With More:  If you've already played the original game you'll be happy to hear they've added 30 new demons, extra dungeons and a new opening animation and theme song
Utilize Nintendo 3DS Functionality:  You'll be able to use the 3DS bottom screen to map the dungeons, engage a COMP hack to change difficulty levels on the fly and fill out maps without have to explore the area.
Use StreetPass or Play Coins to Improve Nemechi:   Evolve Nemechi by collecting StreetPasses or by trading Play Coins for D-Souls and spending them on new forms.
Other games being released by NIS America this year include:
Etrian Odyssey 4 – Release to 3DS on August 30
Dragon's Crown – Release to the PS3 and PS Vita on October 11
Disgaea D2:  A Brighter Darkness – Release to the PS3 this fall
Guided Fate Paradox – Release to the PS3 this fall
For more information on Soul Hackers, be sure to visit the games website, Facebook and Twitter pages.