New Mexico Lottery Introduces Frogger
New Mexico's latest lottery scratch card is based on the Frogger arcade game that a lot of us have grown up with.  In the game, players will reveal a frog and then scratch arrows to determine his route… either to his lily pad or an untimely death under a car or a floating log.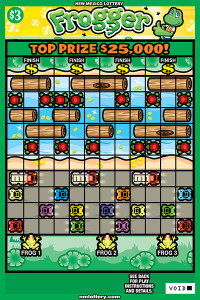 The scratch game retails for $3 and has a jackpot prize of $25,000.
Since the New Mexico Lottery began in 1996, it has raised $576 million towards education and more then 82,600 students have been able to attend college on Legislative Lottery Scholarships.
For more information on the New Mexico Lottery, Legislative Lottery Scholarships and the Frogger scratch and win game be sure to check out the website and youtube pages.