Get Wii Fit U for Free from Nintendo

Owners of the Wii U will be happy to learn that they can get Wii Fit U for free, compliments of Nintendo.  Starting on November 1, 2013, owners of the Wii U will be able to download a full copy of Wii Fit U at no cost and get an early start on any New Year's fitness goals that you may have been planning with access to all the activities in the game for a full month.  All you'll need is the Wii Balance Board and a Wii U with broadband internet connection.  If, after trying the game for a month, you decide you'd like to keep it and continue on with the fitness program you can do so by purchasing and syncing a Fit Meter to the game.
"Wii Fit U is all about 'fun fitness' for everyone in the family," said Reggie Fils-Aime, Nintendo of America's president and COO. "With this special offer, Nintendo is making it easier than ever for families to get active and stay active, making now the perfect time to upgrade to Wii U. This is another example of the kind of value and variety that only Nintendo can offer."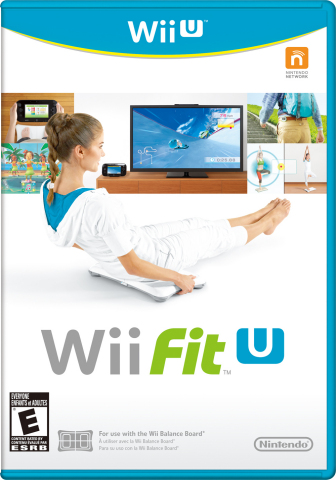 The game will be fully downloadable from the Nintendo eShop from November 1, 2013 to January 31, 2014 and will be available for use for one full month from the first day it was first played.  During this time, players will have access to 77 different fitness activities including 19 new training activities, many of which will make use of the Wii U controller.  To continue on with the program after the trial period simply purchase a Fit Meter and sync it to the game.  The Fit Meters will be available for sale on November 1, 2013 in black or silver for $19.99.
The Fit Meter accessory is not just a pedometer, it's also an activity meter that will track a wide range of every day activities.  Instead of just tracking the number of steps a user has taken it will also track the intensity of those steps; for instance, if the user was running or walking.  It will also measure altitude so you'll get credit for walking stairs or uphill.  All this information is calculated to provide you with a good overview of your activity for the day including the amount of calories burned.  This information can be transferred wirelessly to the game using the Wii U Gamepad.
If you're unable to take part in this special offer now, Wii Fit U will launch as a fully packaged game on December 13, 2013 and as a full download from the Nintendo eShop on February 1, 2014.
Other game announcements include:
Wii Sports Club
Fans of the original Wii Sports will be happy to learn that five of the most loved sports from the game are being re-released.  Bowling, Baseball, Tennis, Boxing and Golf will be available for download from the eShop as individual downloads.  Now with HD graphics and a much requested online multiplayer option, these games will be more fun than ever before.  You'll be able to register to be part of a state or regional sports club and then chat and play with friends in your own club or increase your club's ranking by taking on players from other clubs.
The first two sports games that will be available in the eShop are Tennis and Bowling.  They will be ready for download on November 7 with Boxing, Baseball and Golf available in the following months.  Wii U owners that download the Wii Sports Club will get a day pass that will allow them to try any of the sports available for a 24 hour period.  After that, if you'd like to give the game another try for 24 hours, the price will be $1.99 or $9.99 to download the full game and have full access permanently.