South Park: The Stick of Truth Release Date Revealed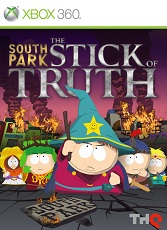 Ubisoft, South Park Digital Studios and Obsidian Entertainment have announced that South Park: The Stick of Truth will be available in the UK on December 13, 2013 for the Xbox 360 and PS3.  A release date for the PC version will be announced later.
A new trailer has also been released for the game to whet fans' appetites.  You can view the trailer, "Destiny" here:
As the new kid in town, it's up to you to save South Park.  Arm yourself to battle underpants gnomes, hippies and other evil forces.  Discover the lost Stick of Truth and take your place alongside Stan, Kyle Cartman and Kenny as one of the gang.  Or fail, and forever be known as a loser.
Also available on the 13th of December will be the Grand Wizard Edition of the game.  South Park: The Stick of Truth Grand Wizard Edition will include a treasure trove of items to aid you in your quest to be the savior or South Park:
South Park: The Stick of Truth Game – For Xbox 360 or PS3
Grand Wizard Kidrobot Cartman Figure – A six inch replica figure from Kidrobot.  This figure is of Grand Wizard Cartman and his stick of authority and is exclusive to the Grand Wizard Edition and cannot be found in stores.
Kingdom of South Park Map – For the first time in history, the entire town of South Park has been mapped out for your convenience.
The Stick of Truth Ultimate Fellowship Pack – This is the ultimate pack to equip your character with.  Choose from one of four classes to outfit yourself, each with their own special abilities.  The Necromancer Sorcerer will increase fire damage, earn extra gold with the Rogue Assassin outfit, the Ranger Elf costume will help you deal extra damage and you can raise your defense with the Holy Defender outfit.
For more information on the game, be sure to visit the website.