Iceberg's Dark Matter is Coming to Steam
Iceberg Interactive continues it's love of space adventures in it's latest release, Dark Matter.  The 2.5D side scroller is coming the the PC, OS X and Linux on Steam and to Western European retail in mid October.
The game, developed by InterWave Studios, takes place in a derelict spaceship that contains a dangerous alien presence and filled with deadly parasites.  You play as an Ensign who must explore the ship while scavenging for blueprints and parts to build up your arsenal.  All while fighting these smart and reactive parasites.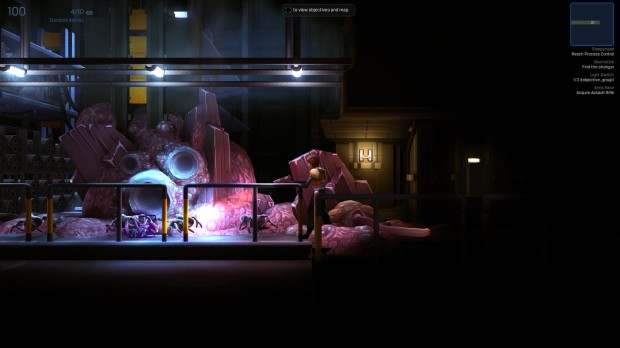 "After Nuclear Dawn, we dedicated ourselves to a more personal project, a revival of the Metroidvania canon, but with an InterWave twist," said Michiel Beenen, CEO at InterWave Studios. "Dark Matter is a fantastic convergence of passion and technology, a dark world to explore, a great new story to discover. We are excited to bring it to a worldwide audience thanks to Iceberg's great work."
Features of Dark Matter include:
A gritty tale of deep space survival with 14 terrifying levels
Four weapons with four ammo types each
Collect scrap and alien resources to build tools and health packs
Specialized weapon upgrades to help players develop their own combat techniques
Enemy AI that reacts to players actions and tactics
Elemental ammo effects enables gamers to freeze, dissolve, electrocute or set fire to enemies
Steam Cloud support for save games
SteamPlay available for Windows, OSX and Linux
For more information on the game be sure to check out the website, Facebook and Twitter pages.
Previous Image
Next Image