Toronto Fans Get A Chance To Unlock Giant Xbox One
The Xbox One has celebrated their upcoming launch on November 22nd by having a zombie apocalypse in Vancouver and a race car thrill ride in Montreal.  Now, the giant Xbox One has landed in Dundas Square in Toronto, Ontario and they need your help to unlock it and find out what's inside.
Fans can help unlock the giant console by pledging their gamertags either on the console by downloading a gamerpic or at www.xbox.ca/onesource.  Those that have pledged their gamertags early will have the opportunity to win prizes from Xbox ranging from an LED Smart TV to all expenses paid trips to Toronto for the Xbox One launch party.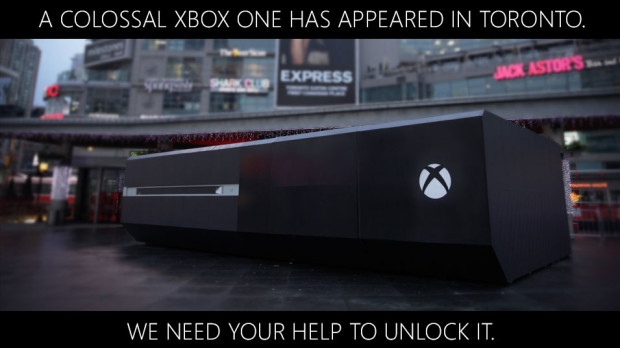 "We are building on the momentum we created in Vancouver and Montreal to celebrate the biggest launch in Xbox history in unprecedented ways," said Craig Flannagan, Director of Marketing, Xbox, Microsoft Canada. "We are drawing on the best exclusive games, the best multiplayer experience and service and great entertainment to celebrate this launch with most dedicated community around."
The Xbox One console will be available on launch day for $499 and will include a console, the kinect sensor, an Xbox One controller and an Xbox One headset.  For more information on the new console and all that it has to offer be sure to visit the website, Facebook or Twitter.