Console: "Nintendo DS"
LEGO  Marvel Super Heroes offers an original storyline in which Nick Fury calls upon Iron Man, the Hulk, Thor, Spider-Man, Wolverine and other heroes spanning the Marvel Universe to save Earth from such threats as the vengeance of Loki and the hunger of Galactus, Devourer of the Worlds.  LEGO and Marvel fans will enjoy classic LEGO videogame adventure and humor, while playing as their favorite Marvel characters.
LEGO The Lord of the Rings takes players along on the adventures of Frodo Baggins and his unlikely fellowship as they set out on a perilous journey to destroy The One Ring and save Middle-earth.  Kids, tweens, teens and parents can traverse the Misty Mountains, explore the Mines of Moria, knock on the Black Gate of Mordor, and partake in epic battles with Orcs, Uruk-hai, the Balrog and other fearsome foes while harnessing the humour and imagination… Read On »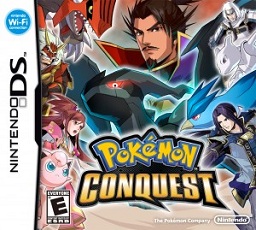 In  Pokémon Conquest, players take on the role of a young Warlord who is linked with a Pokémon. Together, they must set out to recruit Warrior allies to strengthen their growing kingdom. Along their journey, players will encounter a variety of Pokémon, as well as Warriors and Warlords inspired by the Japanese feudal era. The game contains nearly 200 Pokémon, including many from the recent  Pokémon Black Version and  Pokémon White Version games, which have sold more than 4 million… Read On »
In LEGO  Batman™ 2: DC Super Heroes, the Dynamic Duo of Batman and Robin join other famous super heroes from the DC Universe including Superman, Wonder Woman and Green Lantern to save Gotham City from destruction at the hands of the notorious villains Lex Luthor and the Joker.  Batman fans of all ages will enjoy a new and original story filled with classic LEGO videogame action and humour as players fight to put the villains back behind bars.
Pokémon Black Version 2 and Pokémon White Version 2 bring players back to the Unova Region two years after the events of Pokémon Black Version and Pokémon White Version. There are many new areas to discover, and changes to familiar places for you to explore. One new area is Virbank City, home to Pokéstar Studios. Players will be able to visit Pokéstar Studios and star in their own movie with their favourite Pokémon. The movie a player creates premieres at the… Read On »