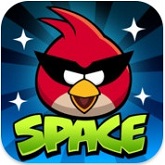 By taking the game galactic, Angry Birds Space retains the familiar elements of Angry Birds gameplay but gives them a unique twist in a variable gravity environment. From the weightlessness of space to the gravity wells of nearby planets, fans can have fun with physics as they try out new gameplay possibilities. The Angry Birds themselves have also transformed into superheroes, with new costumes and abilities.
Experimenting with physics has never been so much fun!
No news items have been tagged to this game.