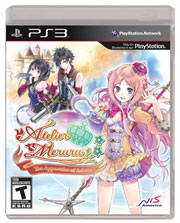 Atelier Meruru: The Apprentice of Arland PlayStation 3
The tiny kingdom of Arls, located on the northeastern border of the Arland Republic, is where spunky Princess Meruru calls home. Ever since she was exposed to alchemy by famed adventurer Totori Helmold, all she can think about was becoming an alchemist. With Totori's guidance, Meruru sets out to develop her home kingdom of Arls using the power of alchemy. On her way, Meruru will encounter new adventures, obstacles, mysteries, and friends, and discover what life is like outside the castle walls. How you choose to guide her through the advancement of her land will determine the final outcome in the tale of Atelier Meruru. With new and updated game systems and returning characters from Atelier Rorona and Atelier Totori, Atelier Meruru will once again capture the hearts and minds of all the Atelier fans out there.
No news items have been tagged to this game.