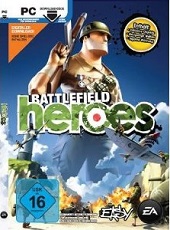 Battlefield Heroes PC
Battlefield Heroes is EA's first title that is offered completely for free, and features a built-in matchmaking system to ensure that players of equal skill are paired together for fair play. Developed by DICE in Stockholm, Battlefield Heroes is leading EA's new web-focused free to download, free to play business model which generates revenue through advertising and micro-transactions. With zero barriers to entry, now anyone can be a hero on the battlefield!
No news items have been tagged to this game.