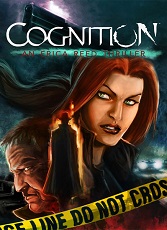 Cognition: An Erica Reed Thriller Episode 1: Hangman iOS, Mac, PC
An episodic story in the spirit of Dexter and Heavy Rain, Cognition stars Erica Reed, an FBI agent in Boston, Massachusetts, who lost her brother years ago to a serial killer who was never caught.
In the high-stress hunt to save him, she began developing the strange and uncontrolled power of post-cognition: by touching an object, she can see its past, events that happened on, to, or around it. When she comes across a crime scene that has clues that were left specifically for someone with her abilities, a new hunt is on. Who knows her secret? How? And what do they want from her?
No news items have been tagged to this game.