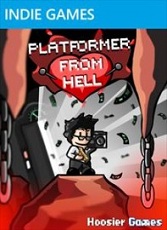 Platformer from Hell Xbox 360
Platformer from Hell follows the adventures of Tie Guy, who, on the way to meet delicious fate with a pastrami sandwich, took the elevator to what he thought would be the mezzanine deli.  Tie Guy was wrong, and now he's got to make his way out of the fiery depths of Hell if he wants to be with his precious sandwich ever again!
No news items have been tagged to this game.