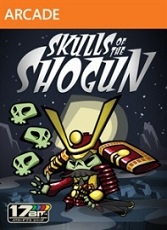 Skulls of the Shogun PC, Xbox 360
Skulls of the Shogun is an invigorating cocktail of 1960's-flavored sorcery and strategy. Washed up on the shores of the afterlife, players meet and join forces with vibrant ghost-samurai warriors, magical animal-monks, and mustachioed samurai generals on the way to capture the Skulls of the Shogun in a 15-hour single-player campaign. 

No news items have been tagged to this game.