Genre: "Augmented Reality"
Harry Potter fans across the country can now get their hands on exclusive new and original writing from J.K. Rowling. Wonderbook: Book of Spells comes to life as you read, allowing you to cast spells with your PlayStation®Move Motion Controller which becomes your own magic wand. Go on a fantastic journey to read and learn the secrets of wizardry and the art of spell-casting, just like a student at Hogwarts.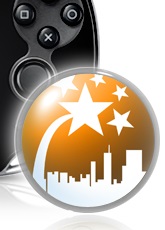 Light up the sky with a spectacular firework display. Detonate fireworks and perform explosive combos to earn special bonuses and work your way up the Fireworks online leaderboard.
Use your AR Play Cards to create your own soccer stadium and enjoy the beautiful game on any flat surface. Take on friends via Ad Hoc Mode and compete in one-off matches and table top tournaments.