1954: Alcatraz – First Impressions
The Electronic Entertainment Expo (E3) is always filled with an incredible line-up of games for us to sink our teeth into. From the heavy hitters like Watch Dogs to the hidden indie jewels like Tiny Brains, gamers everywhere get the chance to see how much of their free time will be eaten away in the coming year by previewing the upcoming titles. This year was no different, and I had a chance to sit down with Gene Mocsy, the creator that has teamed up with the point-and-click master developers at Daedalic Entertainment, to bring us a brand new title that is in production right now called 1954: Alcatraz.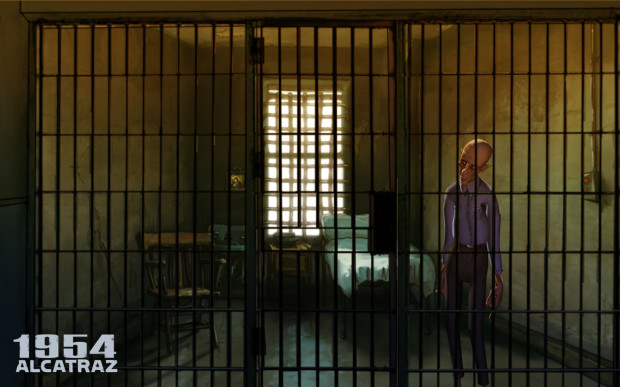 Set in the 1950s, inmate Joe has been sentenced to forty years for armed robbery in San Francisco's island prison, Alcatraz. Eager to get out of "The Rock", Joe solicits the help of his wife Christine so he can break free and run away with her. On the flipside of the coin, Joe's actions have led Christine's life in a terrifying direction.  A gangster named Mickey has threatened to end Christine's life if she cannot bring him the stolen goods Joe had stashed away. If that wasn't enough trouble for her, rumours of this monetary jackpot have spread throughout the entire North Beach and have reached the ears of other questionable characters that are now in search of this treasure. Players will get to play as Christine (and at times as Joe). Choose who Christine teams up with and how the story ends in this epic point-and-click adventure where all bets are off, and it truly is anyone's game!
Contrasts between the romantic relationships in the game and that of Joe and Christine are very apparent as you move through the storyline. As we were watching the walkthrough, Gene was explaining how he created the other relationships in the game to be a lot more volatile and in some cases to have emotionally degraded over time. For example, there was a part we watched where Joe had been given an unsanctioned visit to one of the officer's homes to fix his television set. While there, the officer leaves Joe in the room alone with his wife while he runs errands, and she begins attempting to seduce Joe while he's working. The game will be riddled with dysfunctional relationships in an attempt to further solidify why Christine makes the choices she does for Joe, and how much their relationship influences the bigger picture. Even so, in the end it will be up to the players whether Joe and Christine remain together or not.
Where graphics are concerned, Daedalic Entertainment is taking a new direction: there will be over twenty 3D animated characters in 1954: Alcatraz. That being said, the hand-painted art style typical in previous Daedalic Entertainment titles will still remain. It may sound strange, but the two art styles really mesh together nicely in this game, creating a unique feeling of realism with the 3D characters and classic feel of the hand-drawn backdrops and interactive objects common with Daedalic Entertainment games. Players will get a taste of San Francisco as they wander the beaches on the North Shore, eat at the mess hall in Alcatraz, or see the hauntingly beautiful view of the Golden Gate Bridge from the island.
There will also be more personalized puzzles to figure out, as this non-linear storyline changes based on the choices you make in the game – and that includes alternate endings! Many of these changes are firsts for Daedalic Entertainment, and are in part thanks to them teaming up with Gene for the creation and design of the game. Whether you decide to play the game based on the art style, the point-and-click gameplay, or simply because you love mysteries, 1954: Alcatraz has all the right ingredients necessary to become a fan favourite!