Dragon's Crown – Hands On
Recently at E3 Expo this summer, I had a chance to sit down and play a game called Dragon's Crown.  Having had bad experiences with side-scrolling fighting games in the past, my personal experience, mixed with the game's art style had made me a bit of a skeptic.  However, once I got my hands on it, all of that doubt and fear was washed away!  How is the game shaping up, and what made it such a turnaround?  Read on to find out!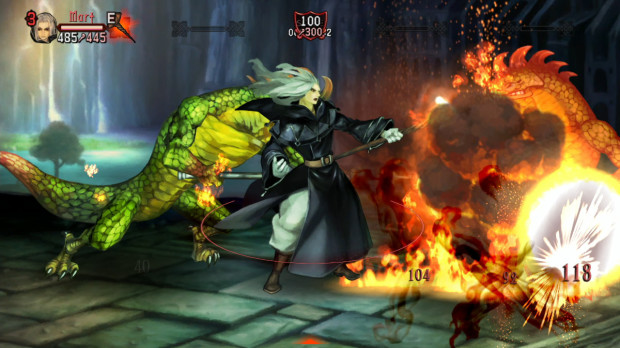 Developed by Vanillaware, Dragon's Crown is set to release on the PlayStation3 and PlayStation Vita simultaneously. While normally not my thing, I was instantly pulled in by this side-scrolling, action adventure game, as the demo didn't mention much in the way of a real storyline, but instead focused on the gameplay itself.  Thankfully, I had a representative on hand who was able to guide me through the title's many features, and answer any questions I had while I played.  DC has a bit of a retro feel to it (some similar titles would be Double Dragon series or Teenage Mutant Ninja Turtles: Turtles in Time). The goal for each level is to head from left to right on the map, progressing through different rooms and beating up any enemies along the way before reaching the final objective, usually in the form of a boss battle.  Up to four players may drop in and out of play at any time – even online and across both systems during your story! As an added bonus, your saved games will  be transferable from the PS3 to the Vita, meaning you can freely switch back and forth between the two platforms without missing a step!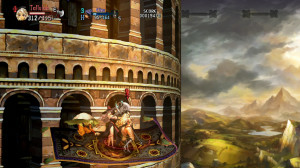 There are six characters to choose between, each with his/her own unique abilities. Of the available characters (Wizard, Sorceress, Fighter, Amazon, Elf, and Dwarf), I was able to try out three: the Wizard, the Dwarf, and the Elf.  For the Dwarf, combat was all about raw power using heavy twin axes.  While not a very fast-moving character, he was able to use several powerful physical attacks and a few rolling assaults to smash through different foes easily.  On the opposite end of the spectrum, there was the Elf, who was more about speed and less about power. She was capable of using a flurry of kicks and knife slashes, while also being able to attack enemies from afar with her bow.  Lastly, the Wizard was all about magical abilities, trading speed and strength for arcane mastery. The Wizard specializes in remaining afar to attack from a distance, using powerful area of effect spells to rip through anyone who dares oppose him.  With these three classes alone it became obvious that the developers were aiming to keep the class system very diverse, allowing gamers to choose their own play style, and adding to the replay value of the title.
Regardless of which character you choose to play with, you will have access to both basic attacks and special skills/spells.  Your main attacks can be directed not only forward but also up and down on the screen, leading to aerial and knockdown combos instead of just the standard ground-based attacks.  Using this combo system, you can create lavish and visually stunning assaults, resulting in powerful attacks. For example, playing as the Elf I was able to attack in a flurry of kicks from the ground, before tilting the left thumbstick up to use an upward kick, bringing myself and my foe into the air. While airborne, I continued to ravage the enemy in a whirl of knife slashes, before sending them hurling back to the Earth with a heavy, downward kick.  Finishing this string (while I was still in the air), I sent a barrage of arrows down to kill my opponent, using the Elf's special attack. After fiddling with this combat system a bit and getting used to the controls (and general mechanics), I had to fight myself to put the controller down and move on.  Players are going to become quite addicted to this one if they are into fighting games, as Dragon's Crown sucks you right in!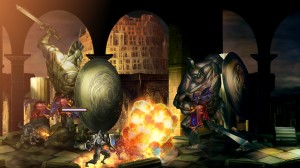 You just can't have a proper heroic adventure without a companion at your side, and so Dragon's Crown gives players a mischievous Thief to aid you on your journey. The Thief is an NPC who follows you around on your adventures, and assists you with breaking and entering, so your hero doesn't have to compromise his morals, of course!  While in a dungeon, you may spot a locked door or chest, which is where our sneaky friend comes in handy. Using his shady skills, he can unlock these chests or doors for you, so long as you can find them!  Although things like chests are obvious, there are several hidden doors and containers tucked into the background, and you'll have to explore a little to find them all. To find these hidden jackpots players need to either hover a cursor over certain areas by using the right thumbstick and selecting it on the PS3, or touch the front screen on the Vita.  This nifty feature adds a degree of exploration and personal choice to the game, and I look forward to seeing more of it when the game is launched.
Previous Image
Next Image
As for the Dragon's Crown and its graphics, the game adopts a very interesting and personable art style.  Both the backdrops and characters have a hand-painted feel to them, almost as though they were either penned out or painted with water-colours. This style gives the game a unique feeling that stands out from other titles. More importantly, it augments the title's themes and ideals.  From the little bit of story I could piece together while playing, you are heroes from a time of legend, back when tales of magic and lore abounded. By using this ancient feeling in the artwork, the player really gets the sense of being a living legend. It's as though ancient scrolls, texts, and paints are coming to life right in front of your very eyes! While my time with the game was short, all of the features available to me led to a fantastic experience – Dragon's Crown is definitely a game you'll want to pick up at launch!
Dragon's Crown is releasing on the PlayStation 3 and PlayStation Vita on August 6, 2013.