Goodbye Deponia – Hello Sneak Peek! (Preview)
Daedalic Entertainment is a passionate indie developer known for hand-drawn masterpieces in the form of point-and-click adventure games. From Edna and Harvey to the recently released Night of the Rabbit, these guys constantly have their hands full with new projects for their fans. One such project is the third installment in the Deponia series, entitled Goodbye Deponia.  Gamer Living got to take a brief look at the new game and how it will play out for fans. Let's take a look at what we can expect from this up-and-coming title!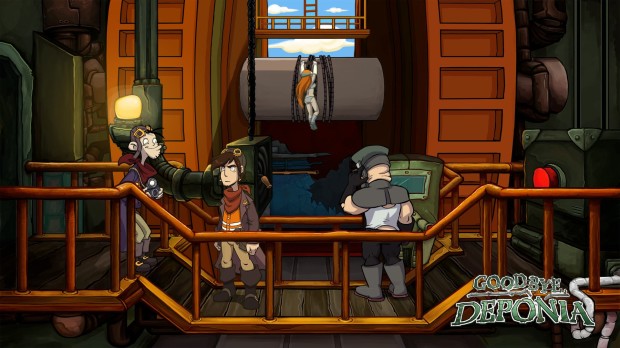 The Deponia universe is made up of three parts: Elysium, The Organon, and Deponia itself. Elysium is a beautiful high-class town that exists as a fancy space station. They turn their noses down and want nothing to do with anyone on the surface of the planet. The surface is called Deponia, which is a garbage heap. The poor exist there, quite literally in a junkyard covering the entire world.  In between the space station and the planet is The Organon, a bureaucratic organization that is involved in several nefarious activities, including the plan to wipe out Deponia.
Rufus (the protagonist of these adventures) lives on this planet, but dreams of one day being able to move beyond his class and live in Elysium!  The only problem is that he cannot get to Elysium from Deponia and even if he could, he does not have the nobility to remain there. Lo and behold, a beautiful young girl in need of a way back to her hometown of Elysium falls from the heavens! Her name is Goal, and Rufus fancies her for several reasons. He definitely finds her super cute, and they get along well enough, but it also doesn't hurt that she's from Elysium and has the code needed to use the elevator that travels to her hometown, either. The series has been described as a "comedy of errors," and Goodbye Deponia is no exception. Rufus is constantly getting himself into trouble with his terrible luck and enormous ego, both of which constantly get in his way.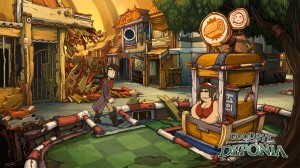 Without spoiling too much of the storyline, halfway through the game Rufus clones himself into three people. All the Rufus characters will end up in different areas of Deponia due to unforeseen circumstances, and will work individually to achieve their main goal: to find Goal! These Rufus characters will be interchangeable for players, and will create a new form of cause-and-effect gameplay that will only add to the complexity of the puzzles. Rufus will also attempt to clone Goal and in turn create an infantile little girl that he must take care of amidst the chaos of locating the real Goal. There was one part where the twisted side of me couldn't stop chuckling as Rufus left baby Goal (and a few other children he picked up along the way) beside a gentleman in a creepy van.  While I cannot promise Rufus will be safe, I was assured the children never enter the vehicle!
In true Daedalic Entertainment fashion, the game is full of dark humour and exciting gameplay that will be sure to spark both interest and controversy among players. Mix entertaining plotline, several types of humour, and incredible hand-drawn animations, you are sure to get a unique game that is carefully planned out to the most finite of details.
If you've missed the boat on playing the first two titles, the developers explained that the start of the game will bring anyone who is new to the series up to speed. That being said, Goodbye Deponia won't be released until the third quarter of 2013, so you'll have plenty of time to catch up on the other two games before this is available on PC!