LEGO Legends of Chima Online – Beta – Preview
Most MMOs are specifically designed for teenagers and adults, so it's rare when you can find one that is completely family friendly. LEGO and Warner Brothers teams up to bring young gamers the browser game LEGO Legends of Chima Online. It's in open beta, so grab the kiddies and get in the game!
You'll notice when you sign up that the browser will allow you to select your character from four animals: Lion, Gorilla, Bear, or Eagle. I decided to play as an Eagle (since that's my favourite animal), and was then allowed to choose from different shades of blue for my character's colours. I  was then given a three part name I could choose from, which ended up being Sweet Flavored Pudding. You can only select from the words they've chosen to provide, and cannot create an in-game customized name for yourself. I'm certain this is to avoid any inappropriate words being used online. From there, you'll be thrown into the Legends of Chima tutorial, which explains how to build your home in Chima, and how to use different weapons to fight your opponents.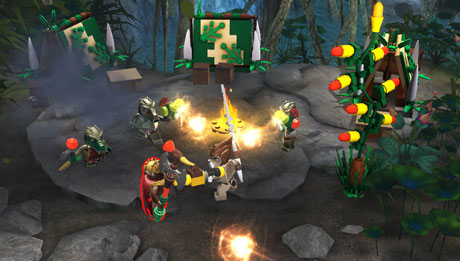 There is a multitude of weapons and armor, and buildings like a house, or a blacksmith, so you can develop your own personal area and character any way you'd like. The game is classless, so if you want one hand to carry a healing wand and another hand to carry a sword, you can absolutely do so! As you level up, higher level items become available to you, so you can fight bigger and meaner enemies.
Right and left clicking are all you'll need to memorize in terms of input, so you can move, shoot, or build anything you'd like. When clicking on objects (such as trees or bushes), enemies, or allies, you can left or right click on them and depending on which weapon is in that hand, you will use it. To move, hold down the left mouse button, and left click once for anything else you need!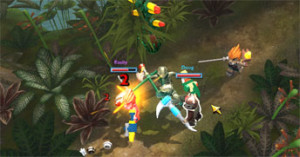 As you defeat enemies, they will burst into tiny little pieces of brick, LEGO coin pieces, and sometimes even items like healing bananas, or weapons. Bricks are used to build in your personal area, and coins buy items. It's a very straightforward system of gameplay, and you'll be fighting other animals (such as alligators) to stop them from corrupting the land of Chima. You'll have to warp from area to area collecting resources and fighting enemies.
If you're familiar with LEGO Legends of Chima: Laval's Journey, or most LEGO games for that matter, the graphics are exactly the same, only with a top-down view instead of a side view. All the animals are made of LEGO pieces and the backgrounds are a slightly less polished version of Laval's Journey. The music includes everything you want in an adventure game: grand rolling drums, orchestral changes based on scenes, and classic trumpets to make you feel like a real hero. At this point in the development, however, the sound does need a little work. The music fits with the theme, but it tends to be very choppy, cutting in and out every few seconds. Keep in mind they are still working out all the bugs, and encourage feedback from anyone during the beta.
While the game is free-to-play, the shop is available to purchase unique items or resources as you see fit. Even though it's in open beta, the shop is currently open and available for public use. Visit the LEGO Legends of Chima Online website and try it out today!