Preview of Nordic Games' Upcoming Games: The Raven and Deadfall Adventures
For gamers out there who thrive on point-and-click action adventures, Nordic Games has a spiffy lineup of titles for you this year!  At the 2013 Electronic Entertainment Expo, Gamer Living got a chance to take a sneak peek at a couple of Nordic Games' upcoming releases: The Raven – Legacy of a Master Thief and Deadfall Adventures.  Hang onto your pants, as this is sure to be a thrilling ride!
The Raven – Legacy of a Master Thief
If you're someone who enjoys the classic mysteries, then The Raven - Legacy of a Master Thief will be the perfect game for you! Created by KING Art (the developer who brought to you The Book of Unwritten Tales), The Raven invites gamers into an intriguing tale of daring heists, cat-and-mouse chases, and even murder!  Over the course of three episodes, the story unfolds in Europe in 1960, and centers on a master thief, the Raven (so named by the raven feather he leaves at his crime scenes) who leads the authorities on a merry chase through multiple countries.  No lock or door is impenetrable to the Raven, and the public clamours for every morsel the media feeds it regarding the master thief's latest feats. Yet all good things come to an end when an ambitious investigator, Nicolas Legrand, fatally shoots the gentleman burglar.  Four years later, a new set of crimes surface bearing the trademark raven feather. But the Raven is acting completely out of character, leaving murder and mayhem in his wake.  Is this merely the work of a copycat, or has the Raven survived, only to shed his nice-guy ways? Now, Investigator Legrand and Constable Zellner are in a race to find the culprit and to solve the age-old question: "Who done it?"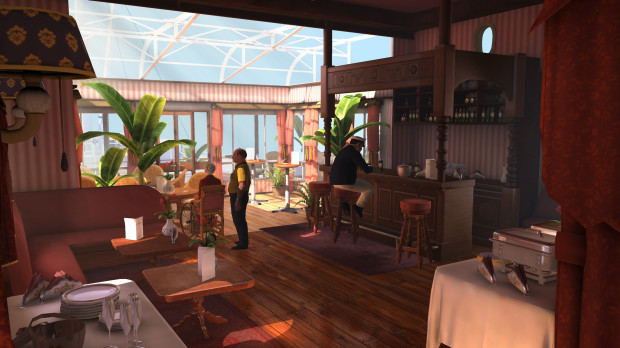 Throughout the game, players will get a chance to step into the main characters' shoes, allowing them to view the story from various angles as Investigator Legrand, Constable Zellner, and the Raven.  KING Art has crafted a three-dimensional world that is sure to draw players in.  Although the game is computer animated, attention to minute details and excellent lighting effects bring the scenery   to life.  Gold statues and polished wooden floors glimmer in the sun, the use of shadows creates atmospheres filled with intrigue with underlying ominous tones, and textures in all foreground and background objects lend to realistic graphics.  Similarly, the characters have distinct facial features and varied postures, filling the game with unique people to interact with.
Playing as the main characters, you'll explore various settings, such as museums, trains, ships, and the streets of London and Paris.  Make sure you examine items and talk with witnesses, as these actions will bring you closer to solving each piece of the puzzle.  With every puzzle you solve, you're rewarded points that can be spent on purchasing tips/clues or unlocking artwork.  By the time you finish the game, you'll have amassed enough points to unlock all the extras!
If you're still on the fence, or just need something to tide you over for the next bit, check out the prologue in the e-graphic novel!  The first chapter will be released on July 23, 2013 on PC, Xbox Live, and PSN, with the next two chapters being released each subsequent month thereafter.
Previous Image
Next Image
Deadfall Adventures
For the explorers out there looking to quench your thirst for adventure, treasure hunting, and good old-fashioned shoot-outs, developer The Farm 51 and publisher Nordic Games have just the game for you!  With a mix of FPS and action-adventure, Deadfall Adventures has you jumping into the boots of James Lee Quartermain, grandson of the famed relic hunter Allan Quartermain.  James teams up with former colleague and US Agent Jennifer Goodwin in a race to find an ancient artefact.
Fans of Indian Jones, Uncharted, and Lara Croft will have a blast, fighting Nazis, petrified mummies and demons, and getting their hands on over 30 unique types of weapons from the 1930s.   Players will have a chance to explore the Egyptian deserts and pyramids, trudge over the frigid landscapes of the Arctic, and discover amazing architecture in the lush jungles of Guatemala.  With the help of Jennifer, James will have to solve ancient riddles, outsmart booby traps, and find the treasure before their enemies get to them first!
Deadfall Adventures features some truly astounding visuals, with realistic renderings of each location. The amount of detailing in the artifacts, structures, and weaponry are sure to ease the way for pure immersion into a game that spins a supernatural tale.  Statues are so lifelike that you'll almost feel as though you can reach out and touch them.  Lighting effects also bring the graphics to a whole new level, aptly playing on surfaces and skin, so that when your characters are in a balmy jungle you can almost feel the heat beating down on them due to the sweaty sheen on their bared arms and faces.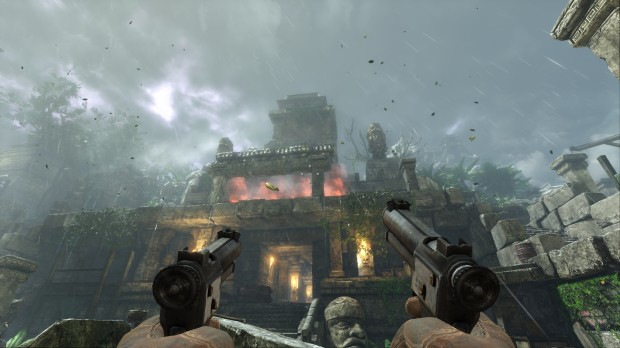 From the brief glimpse of gameplay we saw, it's clear that the developers tried to create a balance between puzzle-solving and full-on action. You'll quickly learn that veering off the beaten path is often lucrative, as you'll find untouched nooks and crannies or caves to explore.  By accessing a Detective Mode, you can discover clues to solving a puzzle or highlighting interactive pieces (e.g. tiles that you have to shoot).  Be ready to fight for your trinkets, though; each time you draw close to an artifact, you'll likely awaken a guardian (read: nasty demon).  It's not easy being a treasure hunter, you know!
Excited? We certainly are!  Luckily, Nordic Games won't keep us waiting for too long; Deadfall Adventures is coming to PC and Xbox on September 27, 2013!