Sly Cooper: Thieves in Time Review
This game was reviewed on the PlayStation 3.
Sly Cooper returns from retirement to track down a villain that's travelling through time and erasing the Cooper family past in Sly Cooper: Thieves in Time!  Sly reunites with the old gang including the lovable techno-turtle, Bentley, and the brawling hippo brute, Murray to track down the mysterious Chrono-criminal by hopping through the past and repairing his family's precious tome, the Thievius Raccoonus!
Sly Cooper: Thieves in Time is a 3D platformer that takes place after the events of Sly 3: Honor Among Thieves.  It's the first installment solely developed by Sanzaru Games since Sucker Punch's departure from the franchise.  Sanzaru's experience with bringing the previous Sly games to the PlayStation 3 in an HD collection appears to have paid off by giving them quality time in understanding the franchise –something that shows rather well in Thieves in Time.
Like its predecessors, Thieves in Time is a game where stealth is key to success when you play as Sly, however, when you're given the reigns in a mission featuring Bentley, Murray, or one of Sly's prestigious relatives, the dynamic changes to suit the character's specific skill sets.  For example, Murray is more of a brawler whose mass isn't very conducive for stealth action, but he makes his way through a level just fine with his fisticuffs, whereas Bentley relies on his gadgets to make his way around and avoid enemies outright instead of sneaking by them in the shadows.  One of the nice things about this game, however, is that it has a relatively simple control scheme that makes it accessible to a wide range of players.  This makes each character easy to pick up and learn, without having a million commands to memorize between three or more characters.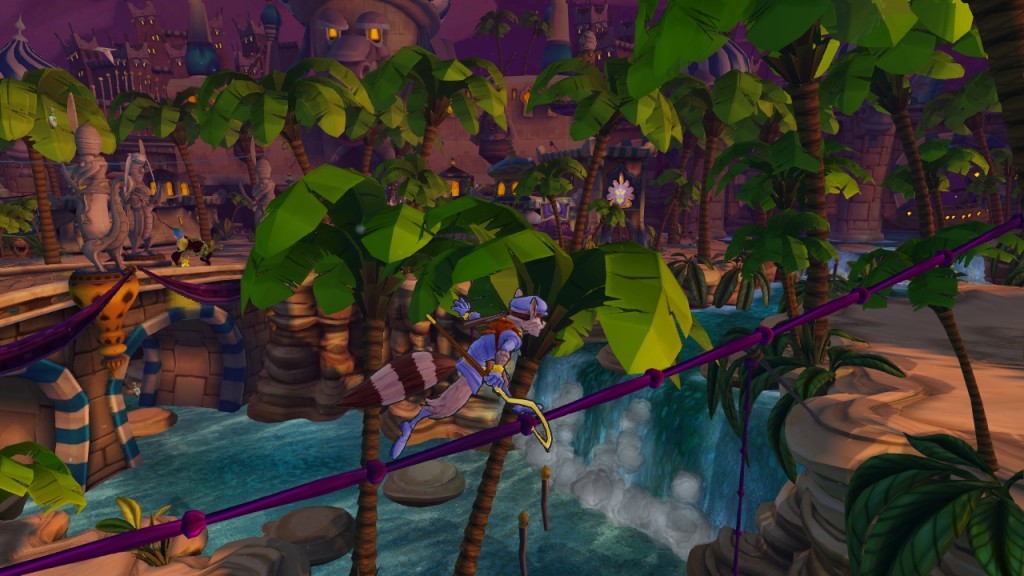 You'll use each character often as each level, or 'job' assigned, is usually tailored to a particular character, with each one getting his fair share of time in front of the screen.  When you've completed a job, you'll be brought back to Sly's hideout where any characters that have an outstanding job will have an indicator over their head.  Just select the appropriate character and go!
While progressing through each area, you'll be given a number of tasks to complete.  These can range from taking pictures of targets, pickpocketing guards for items, or investigating events in the area.  Throughout the level you'll run across destructible objects containing coins that you can turn in to purchase power-ups for your characters (such as additional tools like Sly's para-glider, or new attack combos for Murray), as well as collectibles throughout such as clue bottles to unlock treasures from safes that can be displayed in your lair once acquired.  Hundreds of collectibles are scattered around each level for you to track down, so keep a keen eye out.  It should be noted that if you have a PlayStation Vita, not only does the retail PS3 version also have a copy for your handheld under the Cross Buy program, but the PS Vita can also be used in conjunction with the PS3.  Using augmented reality, the Vita can act as an X-Ray vision device to look around the level and find those super pesky collectibles that are hiding all too well for the master thief to easily track.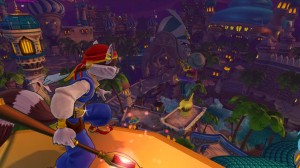 Minigames – which come in various forms – do a good job of breaking up the monotony encountered in Thieves in Time.  These games range from your different flavors of twin-stick shooters to rhythm button mashers and are a welcome sight as the game does suffer from repetitive level designs as many of the jobs you'll go on use the same areas over and over again.  This is probably the biggest complaint that I have with the game due to the fact that it is a platformer, and platformers usually do best when you have a largely varied design of levels to play in.  When you start reusing the same areas again and again, the enjoyment from exploring an area goes out of the window, and you're left just going from point A to point B – usually more than once.
Aside from the nagging issue above, Sly Cooper: Thieves in Time is quite an enjoyable game to both play and watch.  The toon-shaded models give the game a real Saturday morning cartoon look which is compounded by the liberal use of bright colors to make every environment look rich and lush and catches the eyes of children and adults alike.  Add to the mix the spectacular writing and excellent voice acting as the original cast from the previous Sly Cooper games returns, with some extra star power from well-knowns such as Nolan North and Steve Blum to bolster the talent pool.  The in-game dialogue is enjoyable, but the animated cutscenes really take the cake in this one in moving the story along with a good dose of comedy to boot.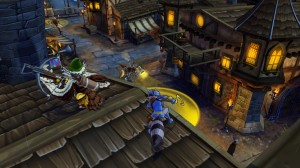 Despite the somewhat repetitive level design, and the occasionally super long loading times, Sly Cooper: Thieves in Time is an absolutely superb addition to your collection.  The simple control scheme, great story, and loveable characters will hook gamers of all ages for a great adventure start to finish.  If you're looking for a good family game, this is surely one to check out.
Sly Cooper: Thieves in Time receives a 4.5/5.0.