Armored Core: Verdict Day Review
Over the horizon, stepping across a desolate battlefield, is Armored Core: Verdict Day, the latest in the mech-shooter series.  Sporting many of the mechanics of the previous title, with several re-works and additions, Verdict Day plans to improve over the last game's failings.  Does it have what it takes to be a better designed machine, or has the series finally rusted over and stopped functioning?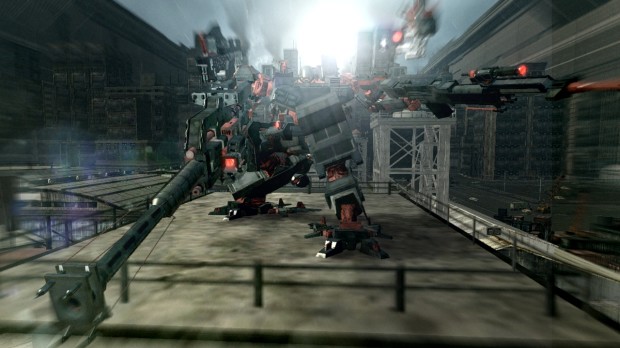 Armored Core: Verdict Day tells the tale of a lone mercenary (whom you play) in a war between three factions that has brought the globe to the brink of annihilation.  Each side fights for control of Towers – giant, unexplored constructs believed to be the key to ensuring victory in this massive conflict.  Tensions are high, and mercenaries are making a killing (pun intended) by playing all three sides.  You are one such gun for hire, and you and your Armored Core (or AC for sort) have been jumping from side to side as the war and cash flow have dictated.  That is, until one day, you meet a mysterious AC pilot, who is a member of a mysterious mercenary guild, and you get dragged deeper into the true reasons for the war.  Overall, the story (as with most games in the series) is overly bland, repetitious, and hard to follow.  You will encounter countless "kill all the cannon fodder before fighting an enemy AC pilot" missions, which are going to become quite boring very quickly.  If it weren't for the large money payouts, AC parts as rewards, and occasional boss battles against super massive and powerful enemies, I would avoid story altogether.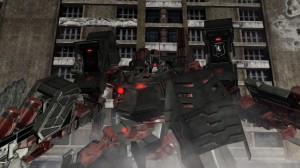 However, unlike the previous game in the series, the story at least makes sense and doesn't feel like you're walking into a half-finished conversation.  The script has been more flushed out to elaborate on certain topics, and key areas, people, and factions have been given reports for the player to read up on, for a bit more background into the game's universe.  .  Hopefully later games in the series take on this example.
Verdict Day (like other releases between number titles in the series) retains most of the framework of the previous game.  General gameplay is identical, in both appearance and controls.  You take control of a customisable AC, in a deep but simple to control manner.  Players can freely navigate the area in their robot, switching between walking and boosting mode for differences in speed, and jumping to go over objects or engage in a hover.  Should you need to gain more altitude, you may bounce off of walls or structures for added speed or height.  Each AC can equip a weapon in each hand, usable independently via the triggers, with certain models able to equip secondary main weapons, shoulder weapons or tools, and rare-yet-ultra-powerful Ultimate Weapons.  Should you wish to do some reconnaissance, simply shift your AC into scan mode.  While this visual effect is applied, you will be unable to use your weapons, yet you can see waypoints leading you towards your goal.  Furthermore, you are able to scan enemies to see their total health (measured as armor points, or AP), or tag them for your allied forces to turn their attention to.  Not sure how many enemies are up ahead behind that building, and are scare to proceed?  Simply launch a recon drone!  These helpful little buggers will tell you how many foes are within its scan range, and will actually highlight them through walls – allowing you to scan them.  Say goodbye to privacy, evil-doers!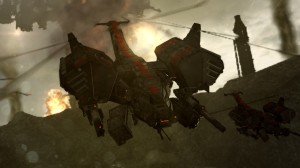 Two other methods of movement are available at the expense of your AC energy: dashing and overboost.  ACs are capable of quick bursts of speed in any direction, which can be chained together to make a complex pattern of movement.  Should you need to cover long distances, you can enter an Overdrive state while in boost mode.  Using this mode will propel your AC forward at a great cost to your energy total.  Fear not, though, as your energy is regenerative, recovering faster in scan mode, so while you should use it smartly according to your playstyle, don't be afraid to use it frequently.
Speaking of playstyles, the largest feature of AC:VD is the series' staple: customization.  There are literally thousands of parts for you to use in designing your giant death-bot, which can be crafted from the ground (or rather the core) up.  Starting with a core, or chest-piece if you will, you may make any design you can think of  – with a few base models available right at the start.  Want a lightweight, bi-pedal sniper?  Done.  A canon and howitzer-slinging heavy behemoth, with a literal tank for legs?  You got it.  Wish to design a reverse-joint weapon to resemble Metal Gear Rex, complete with railgun?  You can get pretty close – I tried.  Every AC designed can select various parts from these categories: core, head, arms, legs, left arm weapon, right arm weapon, ACS (a chip system that controls lock-ons), generator (for your energy needs), shoulder weapons, bay weapons, recon units, and Ultimate Weapons. While that may seem like a lot in itself, each option has two-to-several sub-options (such as leg types like quad legs) to choose from, making the AC customization options all but limitless.  Factor in the ability to colour your AC, change its paint pattern, and even design your own emblem, and there is little chance you will come across an AC too similar to yours.  There is so much to do here that you will spend triple the time at first developing your robot than you do actually fighting!  Be warned, though, it's an addictive experience.
Previous Image
Next Image
Also carried over from Armored Core V (ACV) is the rock-paper-scissors style weapon system; each weapon fires one of three ammo types: Kinetic (KE), Chemical (CE), and Thermal (TE).  As well, every main body part of your AC has a resistance to these types, some more than others.  This means you need to plan out not only what kind of damage you want to deal, but what kind you want to block.  Do you want a balance across all types, or want to specialize in one because it gives a higher total health or speed?  Planning for these kinds of instances is key, as going into a mission with only one type of weapon against enemies with resistance to it is going to lead to one long, frustrating fight.  This system also helps to avoid the existence of "god robots," ensuring that all ACs have some sort of weakness and can somehow be defeated.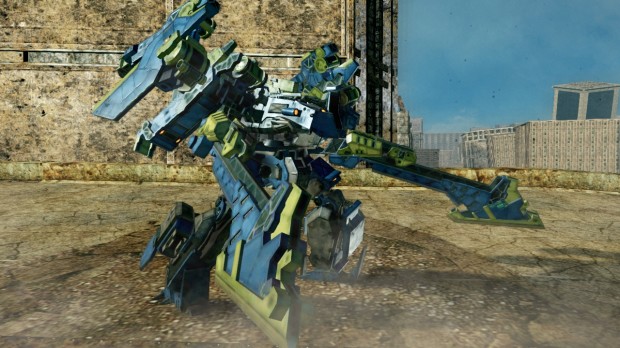 When you believe you have an AC worthy of sending into battle, you may take it out on a mission, which the game refers to as a sortie.  You can take part in the aforementioned story missions, consisting of sub-events that pit you against either ACs or small enemies, or the story-based main missions, with somewhat deeper objectives or boss battles.  The real experience in AC:VD though, is its online multiplayer, which happens on a global scale.  When you first start the game, you're asked to create or join a team.  You can search for a local team, a massive public one, start your own private army of friends, or even a one-person army.  Don't be afraid to create something you won't like, as you can join a new team at any time.  However, your current team will shape how you play online.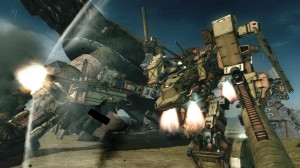 Your team will pick a side in the three-pronged war, and battle for control of the towers in the seven continents.  Each area has one tower and eight bases.  By going on sorties within these areas, you attack these bases in their predetermined order in a head-to-head battle against the defending faction.  Your foes will either be a team of players determined to keep their turf safe, or a set of static defences pre-placed by the defending team.  Which one you fight is controlled by the amount of available players; if there aren't enough people free and searching for sorties, you will fight defenses.  Win the match, and the attacking base's total points will fall; once it reaches zero, that base falls and you can move to the next one.  Continue this system until you eventually take down the region's tower, granting your faction control of said region.  Win enough of your sorties, and you will amass team points.  These can be used to go on a special sortie, which massively increases the amount of AP reduced via winning.  However, note that if you fight defenses, they will be swapped for special enemies – so be careful! Don't forget as well, you're able to request defense mission to prevent foes from taking your turf!  Looking for a more traditional multiplayer experience?  AC:VD features a deathmatch style system of free battling that allows players to fight for the sake of fighting, without the risk of messing up the global economy.  This is a great place to sharpen your teeth as a public pilot, and test your AC design against actual minds.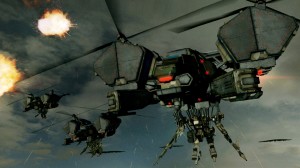 Some of you may not like the idea of fighting for just one side.  Never fear, as the Mercenary mode returns from ACV.  Players may register themselves as a merc, and take odd jobs for players across all the game modes.  Tasks can include helping a poor lad beat a single player mission, or assisting with a region takeover for one of the major factions.  A few special rules apply while undertaking these missions though: players may not use voice communications with other players; you must survive the match and win to get paid; and you may not hire or be hired by any members of your team.  Stay alive and assist in victory, and you'll be paid a fraction of the mission's total payout.  This amount is usually fairly low, though, so only very skilled pilots, or people with money to throw around should actively take these missions up, as damage and ammo costs will probably outweigh your reward.
Of course, sometimes friends, teammates, and even mercs are in short supply.  So what do you do if you need a helping hand?  A new feature to the Armored Core library of mechanics are the UNACs (Unmanned Armored Core), which can be crafted like normal ACs, except they're controlled by customizable AI chipsets.  After unlocking them via the main story, you can make your own UNACs as you would your own craft, test them against other AI ACs, or even challenge it yourself to really test its mettle.  Should it not preform as you believe it should, you may go within its AI chipset and tweak its behaviour.  Want it to maintain a certain distance, switch to a certain weapon when foes are in proximity, and always flank to the left while attacking?  These are all possible.  Aside from general logic tuning, you may also spend extra money to enhance the general performance of the robot, such as accuracy, and energy efficiency.  This feature is a greatly welcomed addition to Armored Core, as it helps massively in the dead hours of play.
One massive problem with AC:VD, however, is its lack of explanations.  The general global online battle is a fairly complicated system, as are the rock-paper-scissors and AC customization systems, and the game makes a basic (or in some cases non-existent) attempt to explain them.  With just about every feature in the game being somewhat complex, you would think the developers would make an effort to better elaborate on them.  Instead, you get only a short sentence on the general concept of features, with a bare-bones explanation buried in the online manual.  Having to go through mission after mission of trial-and-error before understanding the main mechanics was very frustrating, especially with the game's already massive learning curve.  Although the game is worth the slog, a good chunk of players will be dissuaded from continuing.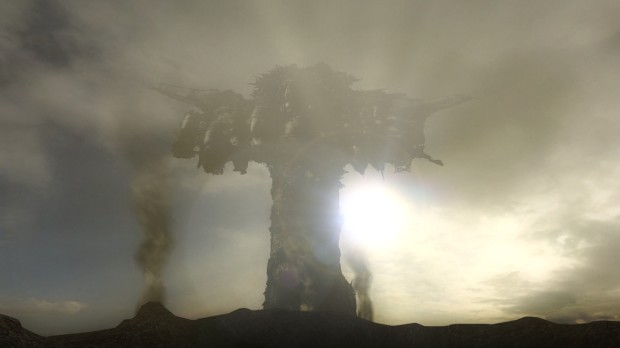 Visually, AC:VD has an overall great quality, but bland appearance.  While the game is free of visual tearing, texture pop, and laggy animations, it suffers somewhat in terms of creativity.  The game sports a dark, earthy colour palate that actually matches the bleak outlook of the game very well, but the overuse of tan colours and ruined buildings makes for some very repetitive and boring landscapes – although the occasional special mission adds an interestingly complex area.  On the other hand, AC parts have very elaborate and unique designs, ranging from simple, blockly parts, to wildly complex concepts that bordered more on space sci-fi.  If you can look past the re-use of certain environmental and colour schemes, you'll enjoy the visual side of AC:VD very much.
Unfortunately, audio is mainly a letdown, as it feels as though it was conceived simply because it was needed.  Generic beeps, whooshes and clunks of machinery make up the sound effects, which are basic, to say the least.  Music in-game is virtually non-existent and terribly uninspired, and voice acting is quite lackluster.  Never quite reaching a specific emotion, most of the acting comes across as just bland.  A bit more attention and detail here, and a fuller soundtrack, would have made AC:VD all the better.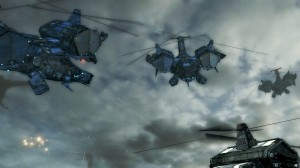 All in all, Armored Core: Verdict Day is a fantastic mecha shooter that is definitely worth a shot.  While it may sport some style, audio, tutorial, and redundancy issues, its creative and massive online multiplayer, basic and advanced gameplay mechanics, as well as its massive customization options are going to keep you sucked in for just "one more hour."  If you're a fan of the series, this is definitely one to add to your collection; should you be new to the games, this is a fantastic place to start.  So hop into your AC, fire her up, and let's get battling!