Beyond: Two Souls Review
This game was reviewed on the PlayStation 3.
Quantic Dream takes a turn from the psychological to the paranormal as Jodie's past, present, and future collide in their latest cinematic thriller, Beyond: Two Souls,  featuring Ellen Page in the lead role of Jodie Holmes, a girl who has had a connection with an entity known as Aiden presumably since birth.  Aiden protects and watches over Jodie while remaining completely unseen to those around her, often using his kinetic powers to aid her.  Furthermore, Jodie has the ability to see through Aiden's eyes and even control him to a certain extent.  They are both studied and cared for by Nathan Dawkins (portrayed by Willem Dafoe), a researcher who specializes in the paranormal, and seeks to learn the mysteries behind the connection between Jodie and Aiden.
Much like Quantic Dream's previous thriller, Heavy Rain, Two Souls uses a contextual control scheme instead of the more traditional controls for a third-person action game.  While Heavy Rain was quite an interesting, but flawed, adventure from a control perspective, Two Souls' inputs have been refined to be more intuitive, less repetitive, and far more exciting during action sequences.  Instead of onscreen queues giving you detailed directions for your analog sticks, a simple white dot is displayed, giving you a general direction in which to turn.  Action scenes are also dotted with slow motion moments where you must observe Jodie's direction of movement in order to determine which way to move the stick in.  This gives players a more immersive experience where they can enjoy the action on screen instead of missing out because they're busy staring at a button prompt.  Of course, for those who disliked the contextual control scheme in the first place, you'll probably dislike it more with Two Souls because it is more prevalent.  In the end, you have a system that works very well for this type of game, which has just as much stealth as it does action.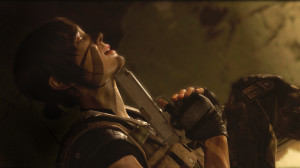 Further adding to the immersion, Quantic Dream seems to have broken the rules of graphical fidelity on the PlayStation 3 hardware with Beyond: Two Souls.  The level of detail in character and object textures is rather astounding both in the cinematics and in-game, capable of fooling the eyes at times into believing you're watching a live-action scene.  This is bolstered with the developer's exceptional writing along with the voice acting and motion capture provided by Page and Dafoe, whose relationship plays a number of roles in Jodie's development as she grows up, from a father-daughter perspective, to partners seeking to understand the condition that binds Jodie and Aiden together.  Aiden, however, has a more unique role being controlled by the player.  Where the relationship between Jodie and the non-corporeal entity is sometimes explored in the story, his role is often relegated to that of a general menace as encouraged by the onscreen prompts.  This mischief-making is meant to provide the player with a feeling of conflict between the two souls, but winds up feeling forced as you really have no choice but to comply with the prompts to cause mayhem because the scene will not move along until you do so.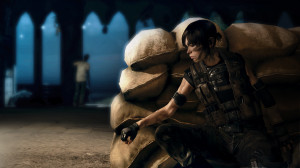 In reality, the more you play the game, the more that you find that your ability to choose is a lot more limited than Beyond lets on initially.  While a scant few decisions you make may slightly alter scenes or skip over areas altogether, the story itself doesn't deviate very much from the course intended for you.  You are so locked in to a predetermined story, in fact, that even attempting to die by failing all of the prompts in a fight will only result in Aiden coming to your side and finishing a battle for you.  After my first playthrough where I was essentially handed a platter of endings to choose from regardless of my choices, I found myself actually working harder to find the walls and boundaries of the game as opposed to playing the game as I normally would, because it felt that the game I would normally play was a very well crafted farce.
Then there's the cooperative gameplay – which isn't really cooperative in the essence that we know it.  While a true cooperative experience usually entails having the screen split into two in order to accommodate for the different perspectives, in Two Souls, this isn't the case.  Each player takes on the role of either Aiden or Jodie, but instead of playing simultaneously, you take turns as the players change the screen from the perspective of either character as needed.  This on and off co-op very quickly makes the off player bored, making for a less than exciting experience.
Previous Image
Next Image
In short, Beyond: Two Souls is a missed opportunity for Quantic Dream to have one of the best closing titles on the PS3 before the PlayStation 4 hits the market with its gorgeous cinematics and powerful story.  Instead, they opted for a game that is relegated to not much more than a bunch of meaningless quicktime events in a linear story that offers only superficial choices that have no real meaning.  It makes for a fantastic movie, but as a game, not so much.