Capsized Review For The Xbox 360
A spacecraft crash-lands on an unknown planet. Emerging from his escape pod, our unknown protagonist is unaware of where he is, but knows he must find his crewmates and escape from this hostile environment, where it seems every indigenous life form is out to kill him. So begins Capsized, a 2D exploration/puzzle-based adventure game recently released on the Xbox 360.  Capsized was originally released on the PC back in 2011, and was due to hit consoles in the same year. Unfortunately for console gamers, the title made its estimated PC release date, but took over two years to finally make it to console. With Capsized now available on the Xbox Live Marketplace, has it been worth the wait?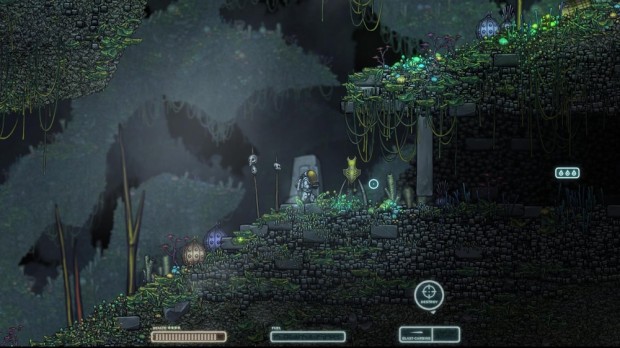 The first thing gamers will notice in Capsized is the art style, which is quite unlike anything else on the market right now. Both environments and character models look hand drawn, with their soft shading giving the impression that they could fit perfectly in a children's picture book. Musically the game fits the same tone, with soft, drawn out notes creating an admirable sense of wonder. The environments on offer within Capsized are fairly varied, ranging from ruins and caves to wider open spaces and alien villages. Quite a lot of Capsized's narrative actually takes place underground, though, meaning that players are relying on their character's flashlight to guide their way. Anything outside of the flashlight's beam of illumination, including both the environment and enemies, is near invisible to the eye, making for a number of levels that can feel fairly claustrophobic. When players do finally make it back to the surface and see sunlight again, the sense of relief is palpable, and quite surprising, almost as if you've been holding your breath through the last few levels without realising it.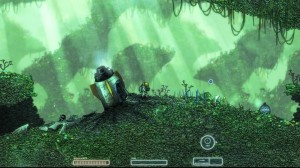 Capsized's controls are simple, but allow the player to perform a number of tasks. The left and right analogue sticks control movement and aiming, respectively, whilst the right trigger fires whatever weapon is currently equipped and the left trigger utilises the Gravity Hook, which can work either as a grappling hook or as a lasso around certain objects. There's also a Jetpack, which is turned on or off by pressing the X button, and a flashlight, which is similarly used by pressing B. The controls work well for the most part, but using the right analogue stick for aiming, particularly when using the Gravity Hook, can feel quite imprecise and can lead to a fair deal of frustration if you're looking for pinpoint accuracy.
The main focus within Capsized is to get your character off of the planet, and to do so you'll need to guide him through a number of levels which take him across the planet's surface. There are 13 levels in all through the main narrative, with an extra three bonus levels, and there are a number of different tasks that each level will have you perform. In some levels you'll be looking for crewmates, and attempting to rescue them, and in others you'll be looking to destroy communication jammers, or to kill a particular enemy. There's a pretty wide range of objectives, which keeps the game feeling fresh, and this is added to by the fact that players are graded on how well they do in each level. Time taken, player deaths and difficulty level all weigh in to the assessment, and players are then awarded a number of stars to mark how well they did. Extra stars can be found within levels, located in secret areas, and these give a good deal of replay value to what otherwise could have been quite a brief experience, seeing as how most levels only take between five and ten minutes to complete.
While much of Capsized's narrative works on an even difficulty curve, there are a couple of instances of sharp difficulty spikes, with the most infuriating coming in the sixth level, where the player is tasked with hunting down a number of Alien Priests. These particular enemies haven't been encountered before at this point of the game, and come with abilities previously unseen, and the game gives players no clue as to how to proceed. It's one of those gaming moments where a number of players could be imagined as putting the game down, never to return, due to nothing more than sheer frustration and the feeling of banging your head against a wall repeatedly with no change in outcome. Following this level, the game's difficulty returns to a more understandable level, so it's strange that the developers decided to put such a noticeable roadblock only a few levels into the game.
Considering the attractiveness of its art style, Capsized has a surprisingly number of issues within the animation of its characters, and the way in which the game registers what the players and enemies are doing at a particular moment in time. For instance, attack animations on some enemies are seemingly nonexistent, with creatures standing still next to the player's character and still draining his health. On the flip-side, if the player stands too close to an enemy and attempts to fire his gun at it, each shot will fail to cause damage to the enemy. This issue also arises at distance, with bullets clearly passing through an enemy's body but not causing damage. The player's character also refuses to pick up health at times; even with a heavily depleted health bar, meaning that two or three attempts at walking over the same spot are necessary before the health is picked up.
Previous Image
Next Image
Capsized is a challenging game, partly because of its mechanics, and partly because of the issues that arise within the game as you play it. Despite this, it is still an enjoyable experience, as the sense of wonder at exploring an unknown planet, and the feeling of danger lurking around every corner never really goes away, making for a tense and memorable experience. There's a fair amount of content here for players that want to really get sucked in, and if they can see past the issues, there's a number of good reasons to stick around, not least the ranking system and the leaderboards, as well as the optional arcade mode, which adds new twists to levels from the story. While Capsized is a far cry from the perfect experience, and perhaps isn't quite worth the two year delay that console gamers have had to suffer, it's still a tense yet thrilling jaunt across a hostile, alien world, and should be enough to satisfy those who prefer their gaming experiences a little more on the punishing side.