Carpe Noctum: NiGHTS into Dreams… Retro Review
This game was reviewed on the Xbox 360
There is something more to nightmares than what appears on the surface.  Two astral realms exist: Nightopia and Nightmare.  In Nightopia, a sleeping person can safely travel, their personality represented by a brightly coloured sphere called an Ideya.  All is not well in the dream world, however. From the dark realm of Nightmare, sinister beings exist to wreak havoc on mortals through their dreams.  Two mortals and a Nightopian hero must team up to save both the dream world and Earth.   The premise of NiGHTS into Dreams… has managed to remain interesting and creative in the years since its 1996 launch, and the game was recently released for Xbox Live Arcade.  The story may hold up, but does age do in the rest of the game?
The HD release of NiGHTS into Dreams… boasts  improved graphics, with sharper character models that hold more detail, and several revamped elements such as the HUD and several 2D sprites.  However, if you long for the nostalgia of the 1996 release, the game allows you to select the original Sega Saturn graphics and enjoy the game in its previous state.  As for how the graphics affect gameplay, players should be pleased at the minimal HUD and easily distinguished gameplay elements.  NiGHTS is a game that was created by Sonic Team, and the clear and straightforward 2D platforming carries over from Sonic Team's previous games.  However, when moving quickly, platforms and background elements can sometimes pop out of nowhere, which players may find slightly disorienting. The character designs are legitimately interesting and unique; Nights is a hero that truly stands out among the pantheon of video game heroes, not simply because of his intentional androgyny, but because of his mischievous jester outfit, bold jewel tones, and ethereal nature.
The soundtrack of NiGHTS into Dreams… is a large part of the reason the game is considered such a classic.  The music of this game perfectly sets the atmosphere and tone of these new worlds with simple, melodic and romantic songs interspersed with songs that are more action-packed, powerful and exciting.  The tunes are composed and arranged to accentuate your gameplay without overwhelming your attention.  This game's soundtrack remains optimistic and fantastic, which is appropriate considering the levels and worlds the player will travel through.
Of all its other features, it's the gameplay of NiGHTS that really stands out.  Unlike other platformers, where running and jumping takes up most of your time, NiGHTS allows you to fly. You soar, glide, speed and float through stages. Elliot Edwards and Claris Sinclair are two dreamers who have their Ideya stolen by Wizeman, a wizard from Nightmare who wants to harness the energy of Elliot and Claris' Ideya to take over Nightopia and then the world.  Elliot and Chris find Nights, an androgynous, magical creature who exists inside these dreams, and the three team up to stop Wizeman and save the world.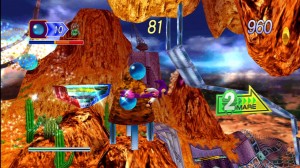 There are seven stages total, with three starring Elliot and the other three with Claris.  Claris and Elliot do not play differently, but they each have their own story and personal demons to face.  They share the final stage, where their stories both culminate in the game's climax.  Unlike the Sonic series, Sonic Team don't include adrenaline-rushing speed or bursting through walls; instead, the movement invokes the sense that you are playing through a dream world with its smooth animations and non-boss enemies can be tossed aside or dashed through, making the point of the game to master the stage and not the combat.
The player collects blue orbs from around the stage, and once twenty orbs have been collected, unlocks a capsule containing an Ideya.  Once the Ideya has been claimed, the player must continue orb hunting until they've found enough to teleport to the boss battle.  NiGHTS is a game that is easy to pick up but difficult to master.  Movement is smooth, precise, and fun, but actually achieving your goals of collecting orbs and getting high scores is the real challenge of the game.  Courses become more difficult and complex as the player progresses, meaning that collecting orbs and moving around the stage slowly becomes a much more intimidating prospect as the player struggles to backtrack to their objectives.  After completing a stage, the game awards a letter grade (A, B, C, and so on). To unlock the final stage, you must earn C's in all stages, which isn't too daunting a prospect – but if you want to compete on the Xbox Live leaderboards, you should be aiming much higher.
NiGHTS into Dreams… also contains several special features that should please fans of the original game.  There are two bonus stages from a rare release called Christmas NiGHTS that many people never got to experience included in this download, as well as commentary from the developers, galleries of art, and a few movies.
New players and veterans alike should be pleased with the core game and its extra features, as NiGHTS has not only survived the test of time but passed with flying colours.  At only 800 Microsoft points, the price of this game is a steal, and you'll get more than your money's worth from this game.  This port proves the longevity of NiGHTS as well as introduces it to new players who never got a chance to try the original.  Check it out on Xbox Live Arcade; you'd be remiss not to give the game a shot.
NiGHTS into Dreams… earns a 4.75/5.00