Death From Above with Sniper Elite V2 (Review)
This game has been reviewed on the Wii U.
Crouched in the corner of a high tower, you draw your weapon. You look down the rifle's long barrel, searching out your mark. His officer's cap and trench coat are unmistakable: this is your target, Major-General Hans von Eisenberg. You take a deep breath as your finger squeezes around the trigger and you steady your aim. A hundred split-second decisions run through your mind as you tilt your sights up and ever so slightly to the side. You must compensate for wind, and bullet drop, and be sure that your first shot is the only one you need. You take another breath – this is it. You can feel the bombs falling in the distance, and you count out the explosions: one, two… a shot rings out, masked by the third bomb. Like Zeus' bolt your bullet screams out, carrying Heaven's judgment to its target. You see it pass through the General's throat, the back of his neck erupting in a spray of blood and bone.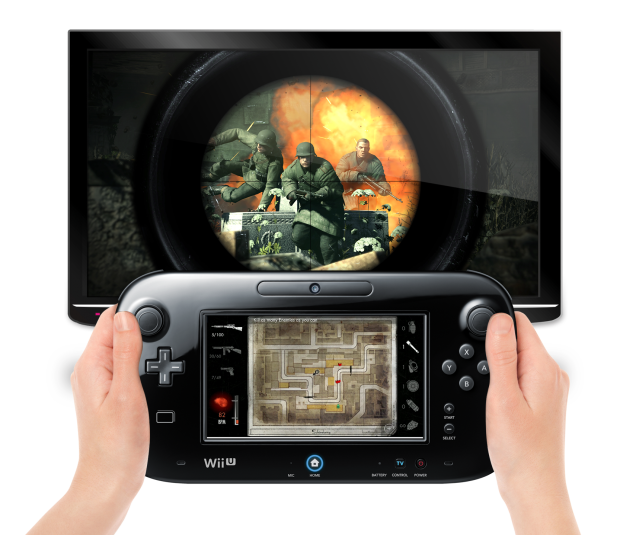 You are the Sniper Elite, a top U.S. marksman sent to Berlin in the closing days of World War II. Your mission is to eliminate Germany's top rocket scientists before they can defect to the advancing Red Army. You carry light explosives, a Thomson machine gun, and a Welrod pistol with you, but the only tools that you can really rely on are your rifle and your wits. This is a game of patience and skill, a test of your ability to devise and execute plans, and most of all your ability to improvise when everything falls apart. This is war, depicted in gruesome detail and cruel ferocity.
Sniper Elite V2 is a straightforward shooter game from 505 Games, with an old-school difficulty curve. The challenges in the game come not from wrestling with the controls (as so many modern games have you do), but from dealing with increasingly complex scenarios. The controls are superficially complex, but serve a very small number of in-game actions that they are negligible.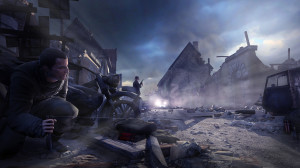 Consider the needs of your character: he is lightly armed and unable to run into a firefight without being mowed down. He moves slowly and deliberately, usually crouching as he walks so that he doesn't expose his head to enemy snipers. Typically, you will be opening fire from windows or balconies, camping in high towers so that enemies cannot cross flat terrain to reach your position, and fill your body with lead.
Your character is very slow and cannot endure a firefight for even three seconds, making it important to prevent enemies from reaching your position. Your superiors have equipped you with mines for setting traps near doorways. To assist you in locating enemies, you have been equipped with a set of long-range binoculars. These will help you to get a lay of the land, and to decide where to place your traps and how to take out the opposing force.
When you have an enemy in your rifle's sights, you can draw a deep breath to steady your hand, using the R button. While you are holding your breath, a meter in the corner of the screen shows your accelerating heart rate, and you can hear it thumping in your ears. This is a feature called Focus Time, which slows down time for your character and zooms in your sights just a little bit more.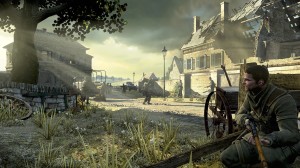 The real challenge of Sniper Elite V2 comes with its bullet physics. Any difficulty setting higher than Easy features realistic wind and gravity effects that will pull your shots downwards and to the side. These physics are so important to the gameplay that if you cannot master them, you will find it practically impossible to play the game. As a result of my own failures on the standard difficulty level, I switched over to the Easy mode, in which the effects are deactivated. I would certainly recommend this course of action to any player who needs to brush up on their sniping skills, or you may become too frustrated to continue the game. It becomes extremely frustrating to miss the shot and alert everyone to your location, especially when you can't hit any of the soldiers that are making a beeline for your location. Easy mode is an adequate training session which can build up your ability to make a series of well-timed and well-aimed shots, and prepare you for the higher difficulty levels available.
Focus Time is essential for making the last-minute adjustments against wind and gravity that will ensure that you hit your mark on the first shot. During Focus Time you are given a little red reticule on your scope, which shows you where your bullet will land after taking physics into account.
The missions in Sniper Elite V2 are light on story and heavy on tactical action. Mission briefings merely explain who your target is and why they must be eliminated, as well as any additional information that would help you to succeed in your mission. In the second assignment, for example, you are told that you must locate a cache of explosives to place along a convoy route, and then detonate them to halt Dr. Kreidl's escape to the Russian Zone. The mission itself consists of sneaking along the rubble-strewn streets of Berlin, taking cover behind blasted-out cars and crates of supplies, and stealthily executing Wehrmacht sentries. You can choose to use your silenced pistol or, if you are bold, you can prowl directly behind them and break their neck. You can also take cover against objects so that you can move along their contours while ducking out of enemy sights. While hiding behind cover, you can toss rocks to create a diversion, leading soldiers away from their posts and into your line of fire.
Previous Image
Next Image
Each mission in Sniper Elite V2 features a few major set-pieces in which you are challenged to take out an entire squad of enemy soldiers. This must be accomplished without alerting them to your presence, or else your position will be rapidly identified and the soldiers will charge towards it. Your rifle is noisy and especially in higher difficulties you must compensate for the effects of the wind and of gravity on the trajectory of your shot. This makes it increasingly difficult to take a series of crack shots at a band of sprinting infantry, especially because your rifle's magazine only carries five bullets and you may have to contend with enemy marksmen. As you proceed through the game you will encounter more scenarios in which a terrible, loud background noise will mask any and all noises that you make: the roar of V-2 rockets can be a godsend when you need to take down three soldiers in a row.
A nice little benefit of the Wii U version of this game is that you can play it entirely on the GamePad. The resolution isn't good enough for some of the very-long-range shots, but it was adequate for most of the game. I personally found this feature helpful because I found it easier to focus my eyes on the smaller screen than on the larger one.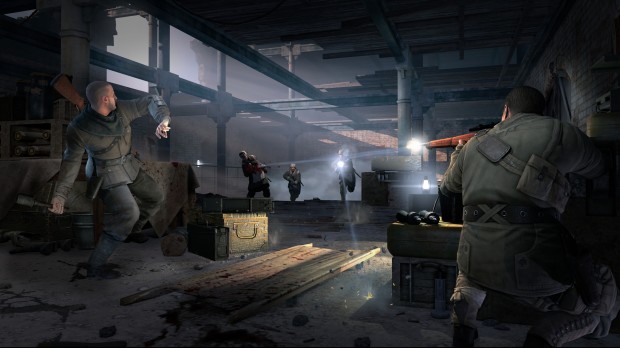 Sniper Elite V2 is a fairly brief single-player game, yet it packs in a lot of gameplay value. The enemy AI is rather intelligent and the stages are laid out to give you a variety of ways to dispatch your foes, silently or in a rapid-fire bloodbath. The bullet physics force you to become patient and mindful of your environment. The slow-paced gameplay encourages you to take the time to lay out effective traps, to scope out your surroundings for hidden snipers, to tag enemies and to figure out which soldiers you should eliminate first and last. Creating plans on-the-fly is the only way to succeed in this game, as your first shot can create chaos on the battlefield. With the higher difficulties, bullet physics are intensified and the enemy army is more efficient. You must become a true elite sniper in order to succeed here.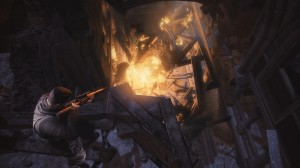 Make no mistake: this is a game designed with hardcore players in mind. It is not necessary to have ever played a shooting game in the past if you want to become a master here, Sniper Elite V2 rewards a totally different set of skills than any mainstream shooter does. Your goal is to avoid action as much as is possible, to act slowly and deliberately so that you never need to scramble in a firefight. You are no tank, though you will be expected to fight tanks! You are an angel of death, doing your work in the shadows and you are fully aware of your own mortality. The extreme difficulty of the game is a test of will: like old-school arcade games, you learn through failure and perseverance how to succeed in this game. There is no hand-holding tutorial, no enemies throwing themselves in front of your gun. The first mission displays your controls on screen and tells you what your equipment is for, but it is up to you to learn how to use these tools effectively.
After a few hours of struggling with the game and becoming increasingly frustrated, I finally managed to get into a good flow with it. I had to release all of my old FPS habits learned from years of playing Perfect Dark and Halo. Once I gave up on being an invincible super-soldier I found the game to be extremely satisfying, and one that discouraged my blood-lust in order to make me into a better soldier.
A key feature of the game's visuals is the X-Ray camera. For successful, fatal, long-ranged shots you are shown a cross-section of the soldier that you just killed. You can see the bullet passing through bones and vital organs: bursting eyes, tearing arteries, shattering bones, smashing teeth, and severing fingers. It is extremely gory, but in a more realistic way than the over-the-top violence seen in games like Call of Duty: World at War, in which limbs fly off and blood splashes in all directions.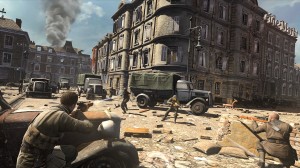 Sniper Elite V2's violence is much more sobering than gamers will be used to, and reminds you that even though the enemy is a mortal threat to you, they are just as fragile as you are. The deaths of your foes are not glamorous or triumphant, but serious and somber. This game exemplifies all of the typical clichés about the Allied solders' attitudes towards the Germans: they are spoken of as Krauts, who are deserving of punishment and suffering. As you move through the ruins of Berlin, you can see the signs of its lost splendour. Everywhere you turn you'll find statues and banners celebrating a once-proud nation. There is no hint of celebration in this blasted-out landscape. It would fly in the face of everything that the game is setting up: violence is nothing to be celebrated, but something abhorrent, something terrible to be avoided, to be resorted to only when there are no other options. There is no joy in executing your objectives, only the satisfaction of having done what was necessary for your mission.
Voice acting in Sniper Elite V2, on the other hand, is terribly executed. The German and Russian accents are just awful, and though I speak neither of those languages, nor am I capable of telling one Russian accent apart from a second Russian accent, these voice actors clearly do not know how to sound Russian or German. One of the scientists that you meet, Dr. Schwaiger, sounds like he had only ever heard a German accent during a B-movie about World War II that he had seen only once. It is one thing for generic soldiers to have bad voice acting, but when characters that are central to plot cutscenes are portrayed poorly, it ruins the dramatic effect in the scene.
Where the game takes a more monotonous turn is with its music. It is extremely repetitive, using the same tracks for every tense situation. There is a drum-heavy track and a bland orchestral track that feels war-weary and tense. While these are appropriate tracks when you consider the overall tone of the game, they seem to be playing all the time on an irritating loop. Its monotony makes it slip, unnoticed, into the background during longer play sessions. I was surprised on a few occasions to notice that it wasn't playing at all: during some sections of a stage the music ceases completely without having any real effect on your experience of playing the game.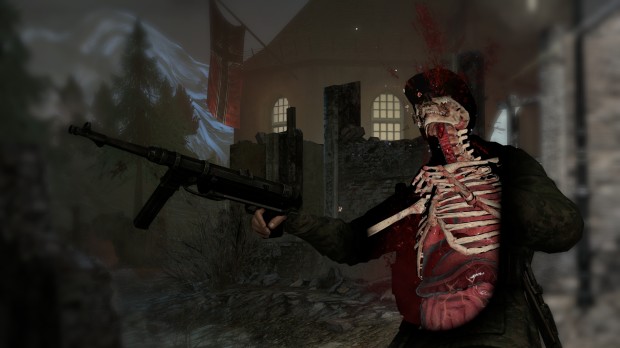 My only real grievances with this game were with the music and the voice acting. That being said, the sound design is quite good on the whole, as the game uses background noises such as the rattle of machine guns or the roar of falling bombs can act as cover for your own attacks. Your character's breathing and heartbeat are audible when you use your rifle scope, serving both as a distraction and as a reminder of how tense the situation is. Your character, despite his incredible skill and lethality, is still as human as his targets.
Overall, Sniper Elite V2 is an excellent game that rewards dedicated players with intense standoffs and tactical gameplay. Its steep learning curve demands attention and adaptation. If you give it the time and care that it deserves, Sniper Elite V2 will give you one of the best war-time shooter experiences of the past decade. Its simple and tidy package contains a wealth of hardcore action and thoughtful scenarios to draw you in and keep you interested. Its only flaws are entirely forgivable in the face of its quality, and this old-fashioned, arcade-style experience is one you won't want to miss out on!