Diablo 3 Console Review (PlayStation 3)
If you checked out my review of Diablo 3 last year, you'd know that despite some nagging issues and the persistent internet connection requirement, D3 was one of my favorite games of 2012. The long rumoured move to the console, and possibly portable devices brought about a lot of conversation, not much of it good. I was quite enthusiastic about the possibility, however, after playing Runic Games' Xbox 360 port of Torchlight, for as long as they were able to translate the controls to a UI that made sense, Diablo 3 could prove to be a very strong IP for the console – and fortunately for us dungeon crawler fans out there, it has done just that.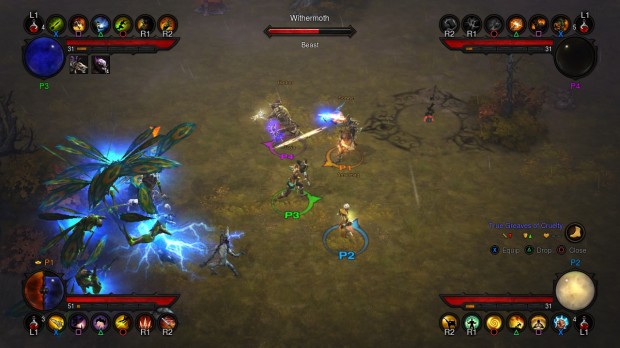 The two biggest concerns I had going into playing a console version of Diablo 3 were its control scheme, and how well the PlayStation 3 and Xbox 360's aging graphics processors would be able to handle the game. The first of these was alleviated almost immediately upon starting the game. After a quick runthrough in the character creation (which works almost exactly the same way as the PC version), I started the game with my signature Demon Huntress and got to work.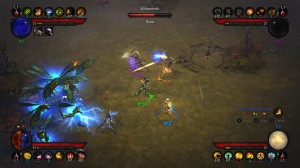 The first thing I noticed was a more condensed heads-up display in the lower left corner with a health bar, as well as my hatred and mana indicated in a spherical container. Seated beneath the life bar are your skills, which are now mapped to the action buttons on the right side of the controller, while L1 is mapped to potions, and R1 acts as your alternate fire. The directional pad brings up your map, cycles through the weapons in your inventory for a quick equip, or open a portal to town. Scrolls for both town portals and identifying items have been eliminated, meaning that you don't have to keep track of your stock before you leave town. Of course, you still run into the occasional gold dropped item that asks you to "identify" it, which consists of pushing a button. Considering the consolidation of functions to bring the game to the console, it's a wonder why they didn't eliminate the need to identify items altogether.
Things are further simplified in combat. Use of the analog sticks takes the place of the mouse for maneuvering and aiming. Instead of rapid-clicking on a target, you'll simply move in the direction of your next quarry and hold down the desired skill to use. To the PC purist, the reduced set of inputs might detract from the overall experience of the game, but it's quite the opposite as Blizzard has managed to do a fairly good job of creating an intuitive interface to bring the game over to the home console.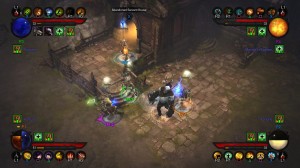 Aside from the control scheme differences and some other minor aesthetic changes, Diablo III is relatively untouched from the original PC version. It runs in 720p, which isn't surprising considering that the consoles' graphics processors are about five years ahead of the original game, so running high quality at 1080p might have caused some issues. The game is almost as gorgeous as my gaming system running at the same resolution, albeit the character and creature models seem a bit more jagged. Another graphical mystery comes with the cutscenes. For some reason, these high-resolution movies suffer from graphical degradation, appearing pixellated in some scenes. This is especially evident when there are a lot of shadows present, which is pretty much all of the time. This problem isn't apparent on the Diablo III making of Blu-ray that was included with the collector's edition for the PC, so you have to wonder why the issue is apparent here.
I do have to admit that while my headphones are superb in sound quality, listening in a full surround theatre is a completely different – and far more exciting – experience than when I played it on the PC. Blizzard's exceptional use of surround sound makes for a highly immersive experience that might otherwise be missed unless you've got a similar home theatre setup for your computer. While the surround experience is most evident during the cutscenes, its use in-game is rather phenomenal. As monsters swarm from all directions, growls and barks come in from all corners and fireballs and spells pan across the screen and through your drivers. But my favorite, of course, are the demonic booming voices that come through in the sub-woofer and shaking the floor (and occasionally an action figure from its perch).
Previous Image
Next Image
The game will take you approximately six hours to complete if you burn through the minimum required quests to the end; however, going through all of the side dungeons can make it far lengthier of an adventure. New to the console version is same-screen multiplayer, which allows you to play with up to three of your friends locally. You can spread out from each other to a point, but you'll find that you won't be able to get too far ahead of one another. This saves the entire group from being overwhelmed by someone having a Leroy Jenkins moment, at least to a certain deree. It is kind of cool playing Gauntlet style in a Diablo game on your home console, I must admit. What's even better is that the game doesn't require an online connection (unlike its PC counterpart), so if you don't want to play online, you don't have to.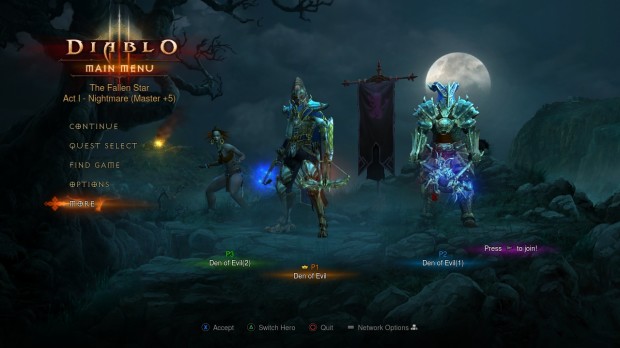 PC purists may shy away from a console port of any game so heavily ingrained in the annals of PC history, and the Diablo series is one of the greatest franchises on the personal computer. But as other excellent dungeon crawlers such as Torchlight and Crimson Alliance have already been able to show, the jump to the console isn't an altogether illogical step. If anything, Diablo III's arrival to the console is long overdue, and well worth the wait. Despite some minor issues, the game is well represented on the home console, and worthy of sitting in your library.