Flying High with AiRace Speed
This game was reviewed on the Nintendo 3DS.
Let's face it, you love planes, long tubes, and going so fast it makes you sick. Everyone knows that you like to live dangerously and vicariously. There's no use denying it; you need a speed fix! Lucky for you, I have just what you need: AiRace Speed, on the 3DS.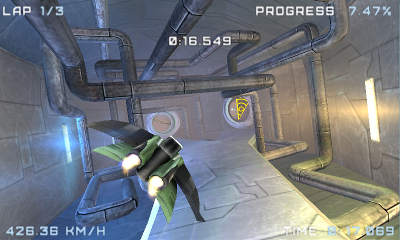 AiRace Speed is a tube racing game by Qubicgames. You control a futuristic jet as it careens through tunnels at mach speeds. The object of the game is to race around the track and beat the record for the best time. It's very fast-paced and the challenge is in beating your best times without crashing into the wall at 500 miles per hour. What a rush!
The controls are simple. Your jet will move forward on its own, so you just have to handle the steering. The circle pad on the 3DS gives you a wide range of movement with very high accuracy, so that you can make broad turns or minute adjustments to your flight path. With the L and R buttons you bank left and right respectively, which is the only way to avoid some obstacles and to pass through tricky, narrow passages. The B button is your jet's brakes, slowing it down so that you can correct your trajectory, and the A button fires a nitro booster so that you can rocket through the courses.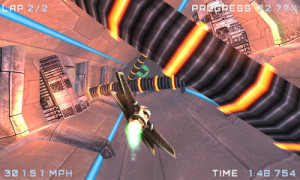 The nitro booster really changes up the game. You can use it to blast through short straightaways on the track, or you can challenge yourself to complete the entire circuit with your thumb on the throttle. Racing at full speed is like playing another game altogether – the skills that you develop at regular speed will only hinder you at full throttle. At regular speed you can rely on reflexes and the precision of the controls to get you out of a bind: you can brake and make last-second tweaks to your direction with the circle pad. At full speed you do not have the luxury of time and must use muscle memory; one wrong move at high velocity will slam you into the wall before you have time to react.
Using the nitro is very satisfying, not because it's difficult to master, but because of how much better the game feels when you pull it off. You barely touch the circle pad and you never need the brakes; you can pilot your way through the tracks with minimal gestures on the pad and bank gracefully around anything in your way. Everything flows so naturally that it feels as if your jet is an extension of your own body.
Like any good soundtrack, the music in AiRace Speed is part of the game's soul. Its bassy, minimal, trance rhythms set the mood for the real game. To really play AiRace Speed, your spirit must harmonize with the music and be relaxed, smooth, alert and electric. Listen well to what it tells you: you are an electron blasting through a circuit at light speed, so act like it!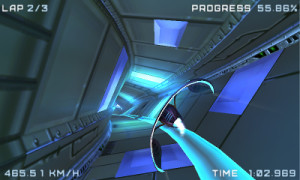 Each race is short enough that you could play practically anywhere, at any time, and they're addictive enough that you can easily play ten in a row. The thrill of the race, which may only last two minutes, is sure to draw you in again and again. Even when you crash it's encouraging to continue, as there are checkpoints that let you continue from a spot just before your crash, although you receive a penalty on your final time.
There's a lot to bring you back to the game over and over again. Every track has three target times to beat (bronze, silver, and gold) and earning those medals unlocks more racetracks. If you're really good, and can beat all of the medal challenges, then you can still try to earn all of the achievements, or go for a high score on the global leaderboards.
There are a few things that would make this a better game. An option to turn off the checkpoints would be nice, as it wrecks the flow of the game if you play the same middle stretch of the track over and over again. Unfortunately, the music is a bit monotonous, as there are only a handful of tracks – having more variety in the music would keep the audio fresh. The graphics are pretty impressive for a game that costs $5, with scratches made by wingtips all along the tunnels, backdrops like cranes and subway trains, and blinking electronic panels in the walls. These details can easily go unnoticed at the speeds you travel, so it would be a welcome sight to have more environments than the one metal corridor style you're given.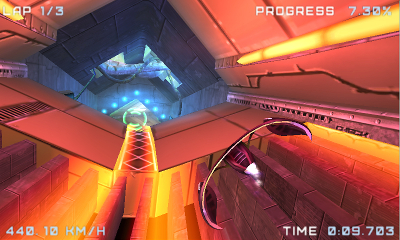 Petty complaints aside, this is a fun little title. It packs a ton of racing goodness and is the kind of game that you can pick up and play whenever you have a few spare minutes. You might be surprised by how quickly those few minutes turn into an hour of blazing through tight spaces, trying to shave a few seconds off of your best scores!