Forza Motorsport 5 Review For Xbox One
This game was reviewed on the Xbox One.
Turn 10 Studios returns to the track with Forza Motorsport 5!  The first racing simulator to hit the Xbox One is most definitely a welcome rebound from Forza Horizon, Playground Games' subpar attempt at bringing the Forza franchise to the open road.  But is it really much more of an experience on this newer, more powerful console than its predecessor?  Or is this just a new coat of wax on the same old finish?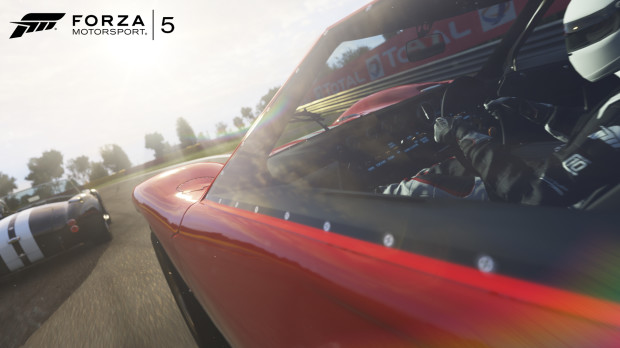 Forza Motorsport 5 is a racing simulator exclusive to the Xbox One console.  It is the sixth iteration of the franchise and the fifth title by Turn 10 Studios.  The game's format is a return to the track circuit, featuring over 200 cars out of the box and 15 circuits to choose from including the famous Top Gear test track in Dunsfield, England.  Forza Motorsport 5 seats you in some of the most idolized and sought after cars in the world ranging from the legendary Toyota Celica to the outrageously fast and pricey Bugatti Veyron.
FM5, like earlier renditions, features a number of gametypes in both the single player mode, as well as the online multiplayer component.  Career Mode takes the player through a series of circuits where they'll race cars fitting into specific classes and types, earning experience points along the way to unlock player and car bonuses, as well as credits to be redeemed for new cars and/or upgrades.  During these circuit series, the player encounters a variety of challenges aside from the standard road races, which do a good job of breaking up the game play and keeping fatigue from setting in (which can happen when you're stuck in a series of road courses).  Challenges include races where you have to pass a certain number of cars before hitting the finish line, as well as Top Gear themed races such as taking on the Stig's Digital Cousin, or driving through a London-themed Top Gear Test Track complete with construction signs, road blocks, and rubbish bins to plow through.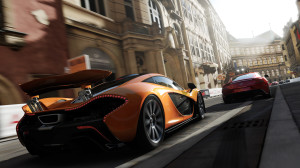 As you progress through these different series, you'll gain experience for not only your driver, but for your vehicle affinity as well.  Affinity is essentially your loyalty to a particular brand of vehicle.  As your affinity level increases, rewards in the form of discounts for parts become available to you.  This allows you to purchase upgrade parts at a discount, making it easier for you to turn that old AE86 of yours into a drifting legend with a little hard work.
Your experience driving doesn't just help you through the circuit, but also through your Drivatar.  Forza 5 now examines your driving  habits styles, and uses them to create an artificial persona that can participate in races while you're away at school, work, or those other boring things that involve not driving racecar games.  This avatar, or Drivatar as it's called in Forza-speak, will then earn you some extra credits in the races that it participates in.  The real fun comes when your friends start messaging you on Facebook about how aggressive you and your spouse drive when they run into your Drivatars while you're out and about.  It's a technology that's most certainly interesting to see, and even more interesting to see how it's refined in the years to come.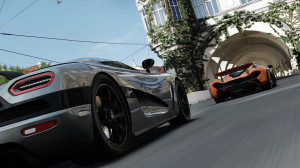 Another new feature in the game comes paired with the Xbox One's haptic feedback in the triggers – the ability to detect wheelspin.  Now, while you're heading into the corner at sub-light speeds, a vibration in the triggers will warn you when the tires begin to break loose, giving you the ability to react before you find yourself heading sideways into a concrete barrier at 210 miles per hour – a feature that would be rather nice in a modern car, come to think of it.
Outside of the single-player Career Mode, you'll find a variety of online multiplayer modes to suit your tastes.  Rivals Mode pits you against some of the best drivers in Forza Motorsport. Here, you'll be competing against their best times using the same vehicles they used on open tracks, where you can run an unlimited number of times around the ring to find your best run.  There are a number of circuits to choose from, such as monthly leaderboards, autocross, track days, and even a circuit for VIP members only!
The full Multiplayer Mode is also chock full of arenas to suit the needs of just about every driver.  Beginning racers have their own arena to give you a chance to get your toes wet before jumping in with the more experienced, and ruthless, drivers on the virtual circuits.  Game lobbies seem to take their time loading, however, as I've found myself waiting upwards of three or four minutes to get a race started.  Finally, Free Play is where you'll be able to get some practice time in on the various tracks without it affecting your Career mode.  Likewise, if you have company over and are in the mood for some split-screen action, this will be the place to go for it.  It's also a good spot to get your legs out after you've changed the setup on your car or want to work with fewer driving assists to get that higher score before getting pummeled in the more competitive arenas.
Previous Image
Next Image
From a visual and auditory perspective, Forza Motorsport 5 is most certainly all about the cars.  If you've got a well-tuned surround system, you'll very much enjoy all of the noise emanating from your speakers in the direction of the engine compartment.  The vehicle models seem to feature even more exquisite detail than that of the previous iterations.  This is most evident in glass and chrome surfaces, which seem more real and less plastic than Forza 4.  Reflections can be seen in just about every surface now, including interior windows that show off the dashboard and steering wheel in the front window, which while initially distracting, makes this far more realistic from a driver perspective than ever.  Lighting also plays a huge role and can be a bane or boon depending on how it hits your windshield.  There's been a few times where I've wanted so badly to get a virtual can of Windex in the car because the flaring from the light coming through a hazy window caused me too much grief.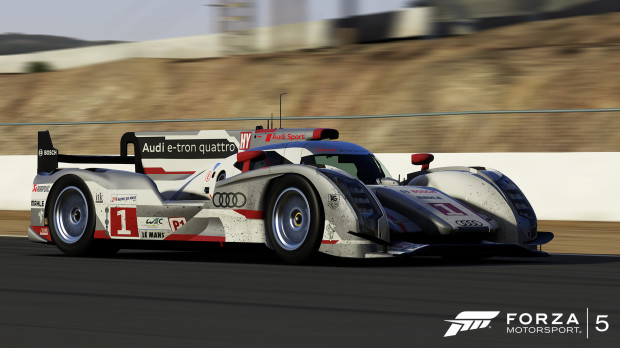 External environments, for the most part, are exceptionally well-detailed as well, with the only complaint being with the crowds.  Instead of 3D modeled spectators cheering you on, you get a sea of cardboard standees staring blankly at you.  It shouldn't have taken much effort to generate a couple hundred spectators, but there it is.
Overall, Forza Motorsport 5 is a definitive driving simulator that transcends the accomplishments that Turn 10 made with FM4.   You can always find some way to improve on the game, but as a game about cars and driving them, Forza still holds the spot as the leader in console driving sims.