Guncraft Review
This game was reviewed on the PC.
If you haven't yet heard of Guncraft, it's an 8-bit, sandbox, first-person online multiplayer shooter. Exato Game Studios teams up with Reverb Publishing to bring gamers a gigantic, customizable fighting universe, and real-time building to help create limitless possibilities in combat. WASD is always the default, go-to keyboard movement for these games, with each developer selecting a different selection of other keys for action buttons. In Guncraft, you can change your movement or action buttons to anything you want via the Menu button.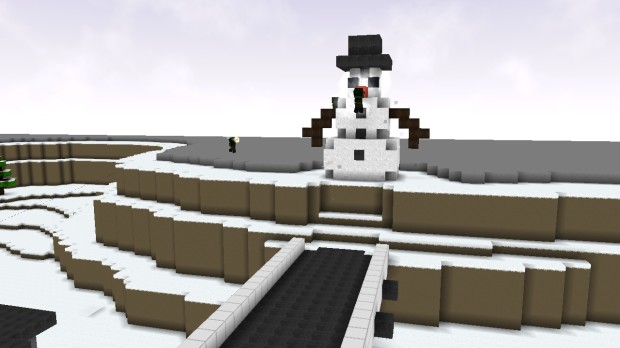 When you begin your adventure, you will have a basic character, and the opportunity to customize them via the Class Editor Menu. Here you can choose how your character looks, what they bring into the gunfight, and even special bonuses that will assist them during a match. These Combat Bonuses can only be utilized one at a time, and include Soldier, Demolitionist, Scout, and Ninja. Each has three bonuses to choose from – such as the Ninja having faster movement speed in build mode, killing instantly with a Melee attack, or jumping higher and taking less fall damage –  and can be chosen based on the player's playstyle.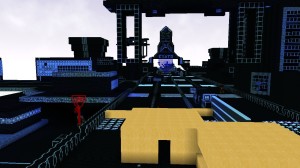 You'll also be able to initially choose one default Primary, Secondary and Melee weapon for use in the first match you play. The Primary Weapons are your basic ranged damage-dealers, and you'll have a choice between different types of guns, such as an Assault Rifle for spray-and-pray players (or controlled bursts), or the Sniper Rifle for all you lovely campers out there. The Melee will be your up-close and personal weapon, but will also be used in build mode (by pressing B) to build or destroy objects during the game, and include weapons like the Pick Axe, Drill, or Hammer. Lastly, the Secondary Weapon will mainly be used to assist you in other ways during combat, such as blowing holes through walls quickly with the Blockbuster, or using a Hook Shot to climb up to high altitudes with ease.
While you can customize and create your own weaponry in the game, you'll need to gather resources to do it, and should probably stick with the default options until you have a better feel for the game. Once you start creating and playing around with the different structures and weapons, you'll be amazed at how many ways you can create usable items that are exactly what you've always dreamed to use in a game.  At one point there was even a player running around with a gun that looked like Squirtle from Pokémon, and people dropping all sorts of hilarious and wonderful creations in the forms of ladders, hideaways, or giant blockades shaped like famous people.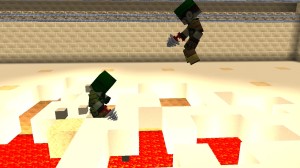 Since this is a sandbox world, even during matches, the techniques used vary greatly. People will burrow underground and pop up to a camper to blow them up or slash away at them, others will create  camouflaged areas to snipe from, or they will hop in available vehicles on a map and drive around wreaking havoc that way. The game is designed to create an "anything goes" type of match, where people are scrambling to come up with new strategies to combat the curiously bizarre creations others drop on them, all on-the-fly.
There are several types of game modes to pick from in Guncraft, all with their own appeal. While many of these modes are extremely typical to any FPS player (like Team Deathmatch, Deathmatch, or Capture the Flag), some new additions make for an interesting new twist to online multiplayer. The two free-for-all games are Lava Survival and Spleef. Remember when you were a kid (probably a poor kid if you remember this) and you played a game called 'the floor is lava'? You know the game, where you and your friends or siblings would bounce from the coffee table to the chair, and onto the banister because the floor was full of hot molten lava that would kill you if you touched it? Well, put that in an online environment, make the floor slowly rise, and add guns – this is Lava Survival. In case this type of gameplay is too boring for you, try Spleef, the game where you try to break blocks underneath your opponents so they fall into the lava and die, with the last man standing winning the match. There's also Siege, where two teams race to create a giant battle machine that will kill their opponents, and Onslaught, which is a co-op mode that pits players against multiple enemies like robots, or spiders. There is truly something for everyone in Guncraft, and even if you aren't a big FPS fan, you will find yourself thoroughly enjoying the game if only for seeing how long you can survive!
Previous Image
Next Image
A big issue you'll run into with the match-based gameplay, however, is that many of the servers are hosted by the players. This means that if the other person's connection is sub-par, or even intermittent, your game will be too. What happens with this setup is that on multiple occasions you'll find yourself queuing up only to drop,  lagging out horribly during gameplay, or even being  booted mid-game. It certainly comes with the territory of player-hosted servers online, but can be extremely aggravating if you are throwing yourself into games randomly. The game-hosted servers are small in number, and don't give you an option as to what type of match you'll play, but make for far better stability, so if you wish to give up a little creative freedom to ensure you aren't dropping out mid-game, this may be your only option.
Are high-quality graphics and gorgeous rendering your go-to gaming style? If the answer is yes, you probably won't be playing Guncraft. This game was specifically designed to be a bare-bones, voxel-based universe with a very basic colour scheme. The entire layout is done this way, from floor to ceiling, with only some clouds in the sky to make you feel like it's more than a bunch of colourful blocks stuck together. It may sound like this is unappealing, but this popular design choice has an endearing quality, and coupled with the unlimited supply of imagination from its players, it can create a world that is unique and at times even breathtaking. You'll definitely notice instances where you get stuck in walls, or your character will disappear and reappear while falling. Still, creating floating cities in the sky that players can hop back and forth between clouds and ride waterfalls down to Earth where they can sift through a seemingly endless sea of sand and mountainside – what's not to love? Almost anything can be designed and played on the field, or pre-built off the field (so long as you have the resources).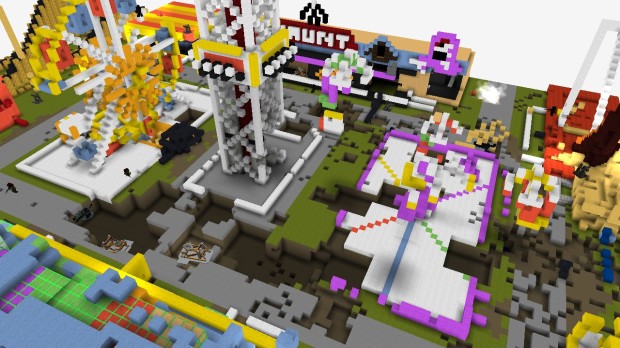 If you're still missing the point of Guncraft, it's a first-person shooter with endless opportunity to build and create games based on your imagination, not based on the design a game developer chose for you. It has seemingly limitless replay value, and is something that provides that extra motivation behind a sandbox game that others lack. You'll also get points you can brag about through KillStreaks, or be able to show off your giant Kirby shield while you're flaying your enemies with a Master Sword replica. If you're into a game that has a very set pattern, this should not be in your collection, because it is a free-flowing, community-driven gameplay that is in constant flux. Guncraft is bound to quickly become a new addiction for the masses.